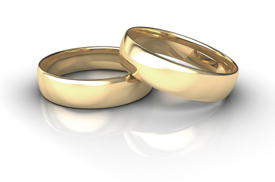 Over the weekend, whilst many of us "ohh'd and ahh'd
On one hand it feels only like yesterday, that I got suited and booted and walked in to the barn full of friends and family; yet on the other hand when you take time to reflect you soon realise that a lot of water has passed under the bridge.  
I, Harvey's Dad take you, Harvey's Mum to be my wedded wife,
to have and to hold from this day forward,
for better, for worse, for richer, for poorer,
in sickness or in health, to love and to cherish, 'til death do us part,
according to God's holy ordinance;
Thereto I pledge my love. 
At the time I had no flipping idea what those words meant or what it would mean to live them out, but now Twelve years on I do. 
For better or worst; 4 years into our marriage I had a bit of a breakdown, work had just done me in and I quit. I just walked into my boss's office and quit on the spot. It wasn't planned and as husband and wife we certainly hadn't "discussed