Help your kids battle with the ghosts this Halloween by transforming them into your own little monsters. Whether it's Count Dracula or a wicked witch, the incredible Hulk or a frightful ghoul, we've got it covered with this great choice of costumes
1. Dracula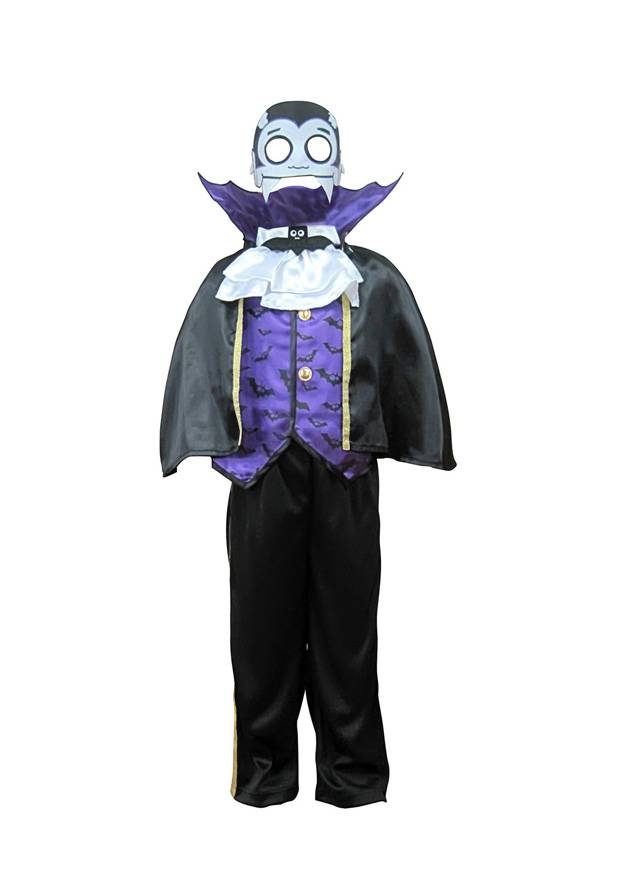 Master the evil laugh and you'll have the perfect little Dracula to spook up your house. One of many Halloween gems from the Early Learning Centre, this costume includes five pieces for the price – cape, waistcoat top, trousers, mask and a cool bat style bow tie, 'The master is at hand'.
One size (From Age 3), Early Learning Centre, www.elc.co.uk, £15
2. Witch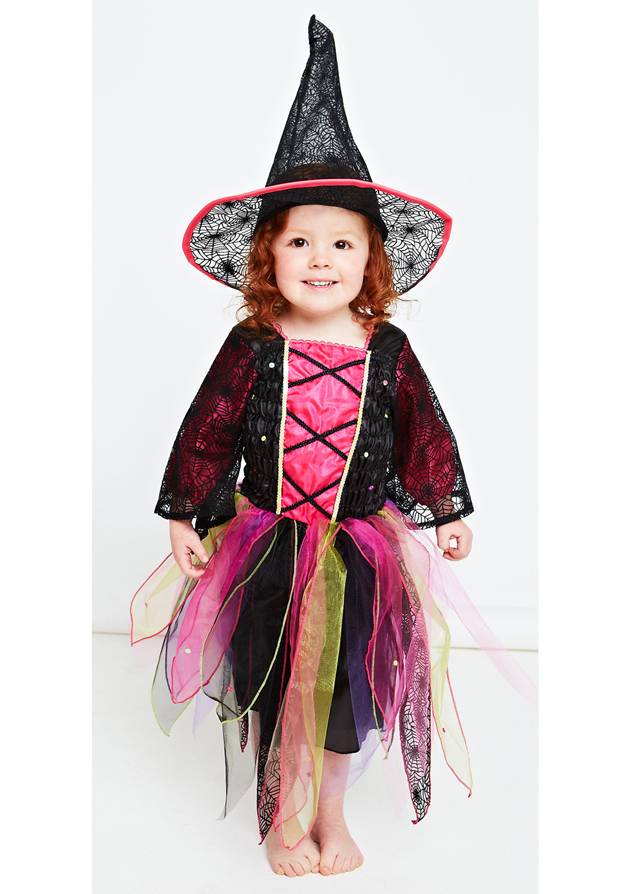 More of a sparkly witch than a scary one, your girls will love the contrast of black with a bright petal witchy skirt. A scatter of sequins and cobweb sleeves adds a touch of style for this modern witch and the black cobweb hat completes the look to really get those spells underway. Find a black cat and she's good to go.
One size (From Age 3), Early Learning Centre, www.elc.co.uk, £16
3. Gruffalo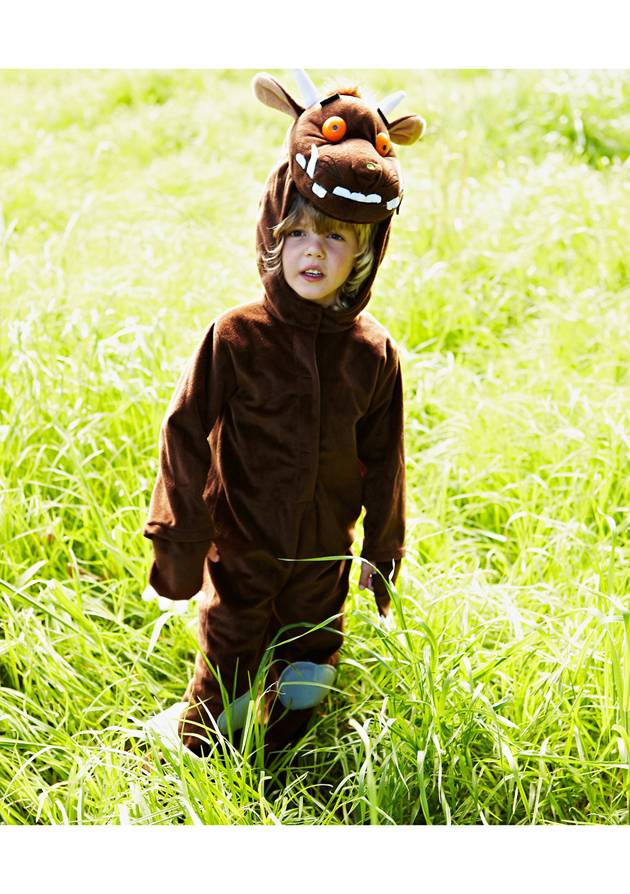 Bring the Gruffalo to life with this fantastic furry outfit and start practicing your fear: 'Oh help, oh no, it's the Gruffalo!'. Your kids will take great joy in reenacting this scary but loveable character. Designed with soft brown velour, a padded hood and felt purple prickles, it's one of a kind.
One size (Age 3-6), Early Learning Centre, www.elc.co.uk, £20
4. Dino Onesie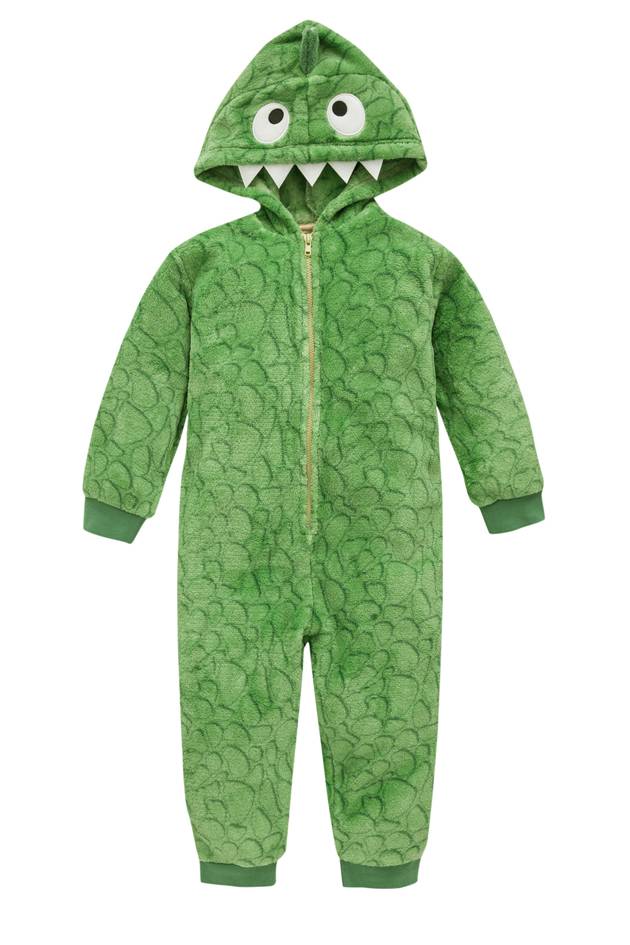 A frightening dinosaur or a terrifying monster, either way this green velour suit with fangs and bulging eyes depict a good level of scariness. It's easy to wear with a simple yet effective hood and single zip at the front. Not just for Halloween, it's beastly all year round.
18 months – 6 years, Debenhams, www.debenhams.com, £18
5. Hulk Costume – GREAT VALUE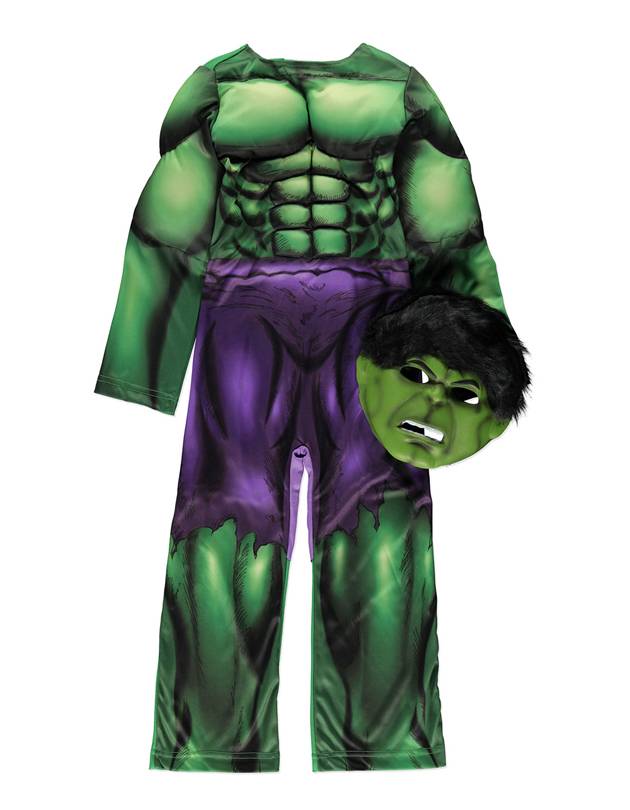 Angry green beast and superhero rolled into one, the Hulk comes with great arm and chest muscle padding so your kids really feel the part. A face mask with attached hair is the perfect finish to this realistic gem and if you want to join in the fun, there's a great adult version too.
1 – 10 years, George, www.asda.com, £12.50
6. Kitten Onesie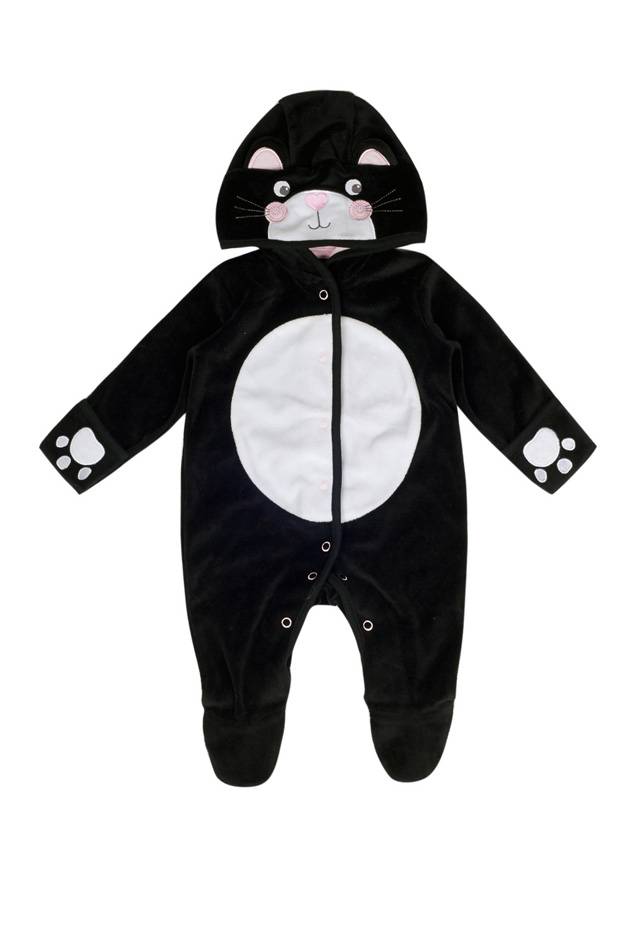 If you have little toddlers who want to take part in all the spooky fun, then we've included three baby outfits for younger siblings. Every witch needs a black cat and this fantastic kitten all in one is perfect, with popper front, white paws and hooded cat face.
0-24 months, George, www.asda.com, £8
7. Halloween Vampire All In One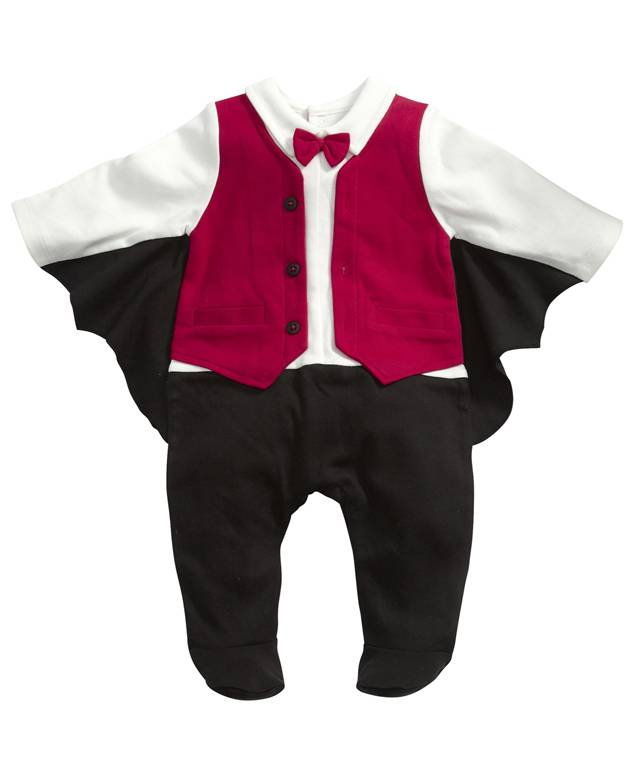 An ideal mini-me for Count Dracula, this baby vampire outfit is perfect. Black attached bat wings that move with your baby's arms, along with mock red waistcoat and matching bow tie. The best bit is that there are no detachable parts so it's all the detail with minimal effort.
0-12 months, Mamas & Papas, www.mamasandpapas.com, £20
8. Skeleton Rib Cage Baby Grow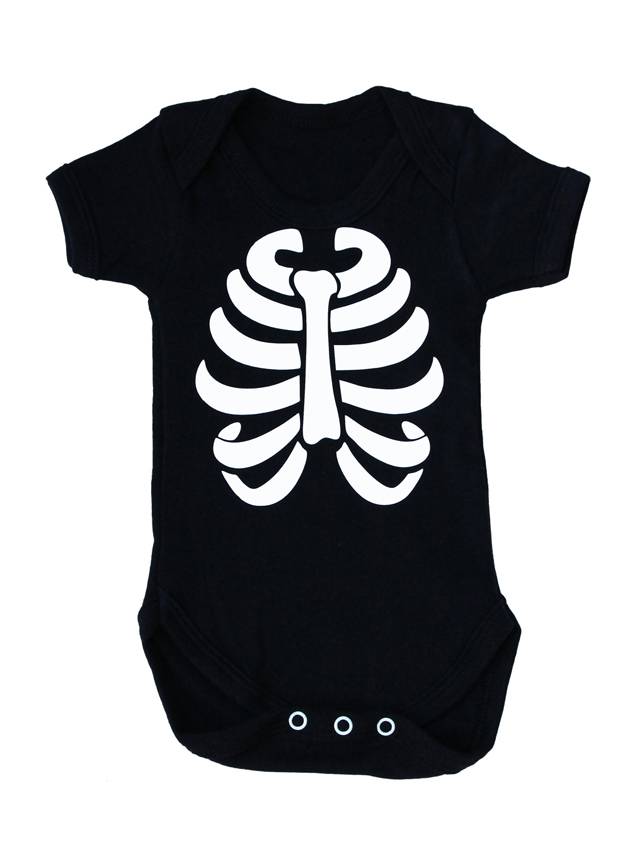 Simple yet effective this rib cage grow, is made with super-soft cotton and can be dressed up with anything else you fancy. For both boys and girls, dress it up with a tutu or a pair of black joggers and you'll have the perfect skeleton accessory to fit under your arm.
0-12 months, Baby Moo's, www.babymoos.com, £10
9. Skeleton Romper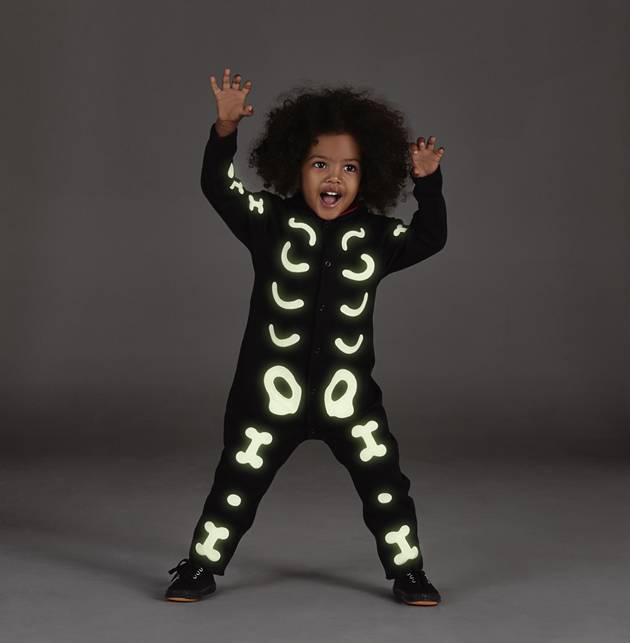 Let your kids lead the way with the trick or treating this year in this fabulous glow-in-the-dark skeleton outfit. Its front-opening poppers are great for ease and the suit is perfect for both boys and girls. It's a great way to get them excited about Halloween, so prepare to be rattled.
Up to age 4, Mamas & Papas, www.mamasandpapas.com, £20
10. Skeleton Onesie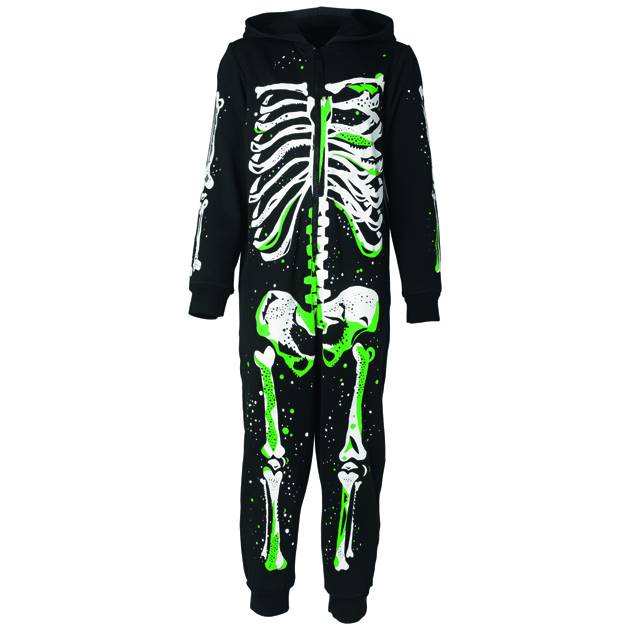 Older kids and teens will love this long-sleeve onesie, which can be worn on its own or over other clothes. The glow-in-the-dark bone printing and black hood adds the perfect detail for effective eeriness and popper fasteners down the front make it easy to slip in and out of.
Age 6 – 16, Marks & Spencer, www.marksandspencer.com, £19
11. Monster Tee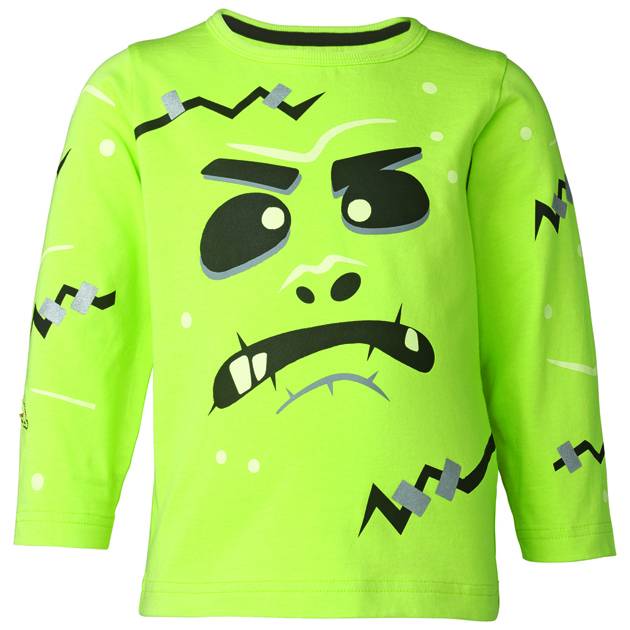 Great for kids who don't want a full Halloween costume, this cotton T-shirt is ideal to wear with jeans and your own mask. With a black monster print on the front kids can still tick the scary box but mix it up with their own accessories to create their own style of horror.
Age 1-7, Marks & Spencer, www.marksandspencer.com, £9
12. Vampire Costume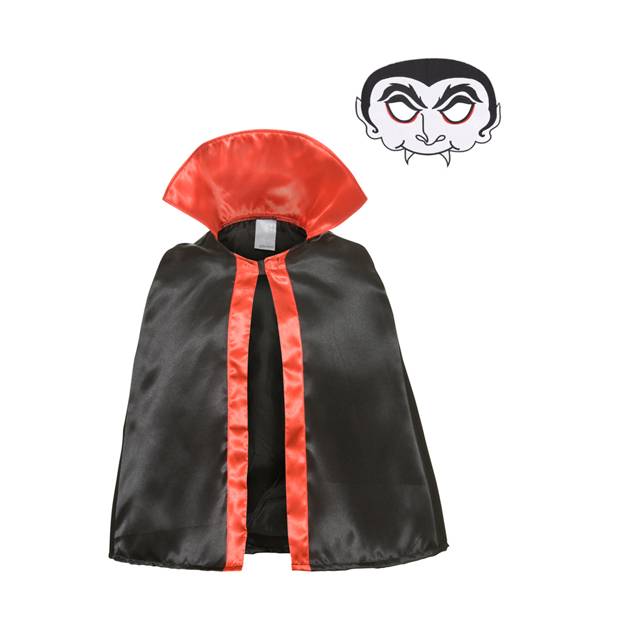 Great value for money, this vampire attire comes with a black and red satin cape, and a Dracula mask for good measure. A great Halloween add-on, all you need is a plain white shirt and black trousers to complete the look of the Count himself.
Age 5 upwards, John Lewis, www.johnlewis.com, £12
13. Darth Vader – EDITOR'S CHOICE
Not just for Halloween, this infamous villain is a year round winner. Including a jumpsuit with printed belt, a black cape and Vader's unrivalled mask, not only will they lure you to the dark side, it looks so convincing they may scare themselves while they're at it.
Age 5-6 years, Argos, www.argos.co.uk, £19.99
14. Alien Morphsuit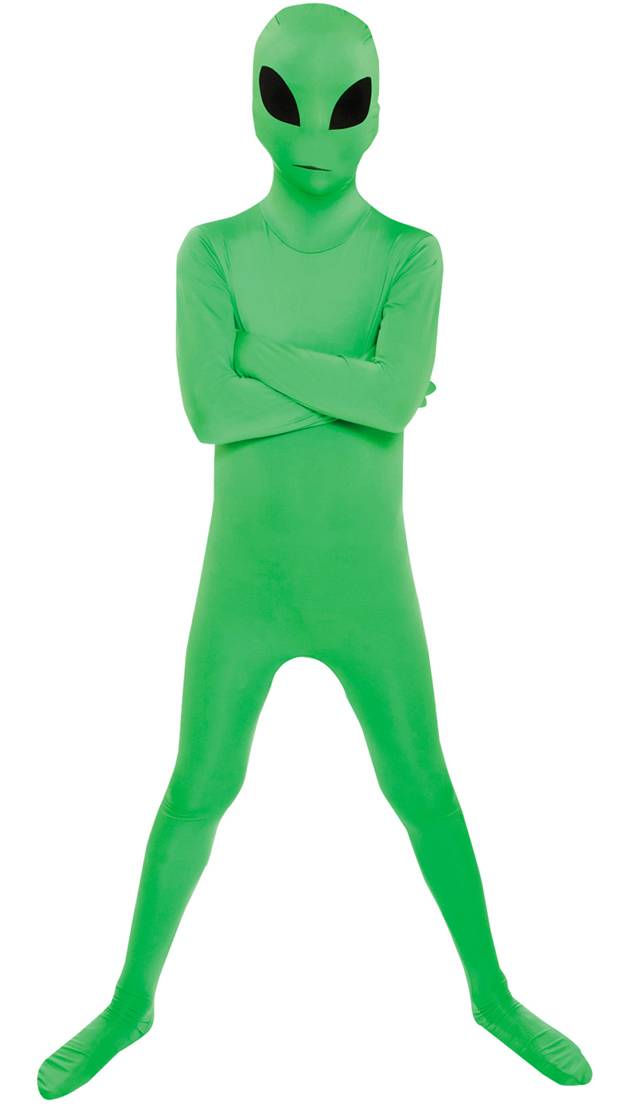 This incredible morphsuit is one of our favourites and although you might jump every time you see that green alien in your house, the kids will love it. It stretches over for the perfect fit with no visible flesh to see and offers clear visibility through those beady black eyes.
Age 8 – 12 years, Argos, www.argos.co.uk, £24.99
15. Freak Mask
Whether it's E.T, your pet dog or the old bid next door, this unique mask will let you be anyone you want. All you need is a decent mug shot to upload and Firebox does the rest. The eye cut outs add to its freakish look and it will keep well for over 100 washes.
One size, Firebox, www.firebox.com, £14.99
See six of the best spooky Halloween games here.