Finally, summers around the corner and holidays are on the horizon. If you're lucky enough to be heading to a beach or poolside this year, you'll love the swimsuit range we've lined up for your kids. Get yourself ahead of the game from UV protective outfits to fashionable poolside garb; your kids will be the coolest looking sunshine protected kids around
African Mask Rash Vest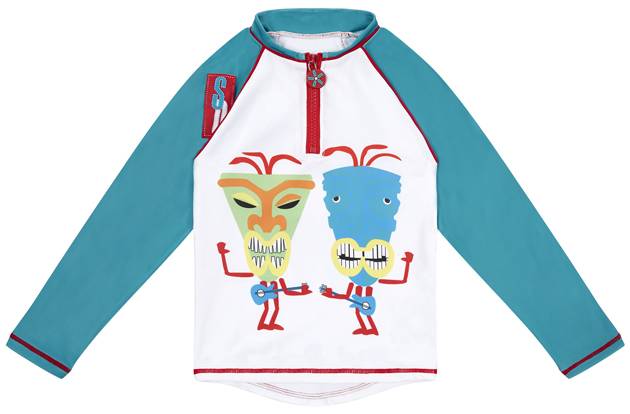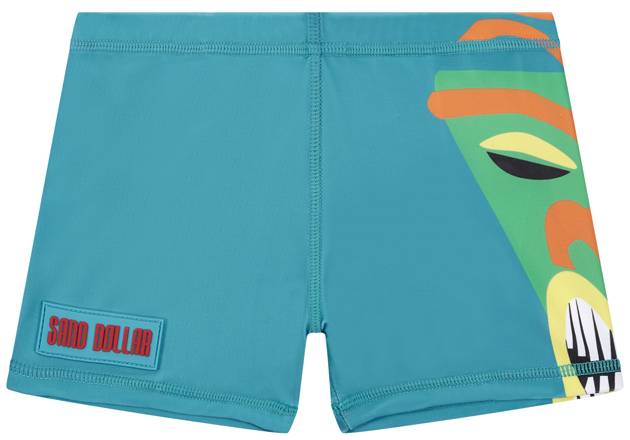 Swimwear for kids has become fun and exciting thanks to a fantastic range from Sand Dollar. With a passion for fashionable sun safety the range is designed with UPF 50+ protection, which means less time creaming up and more time having fun. Made from breathable Italian fabric, it's machine washable and quick to dry resonating the company's motto of kids being 'too cool to burn'.
The African mask rash vest features fun mask designs with vibrant colours and funky zip detailing at the front. It can be worn on its own or better still, matched up with the African Mask shorts for additional style and more protection. Designed for a real beach adventurer.
Sand Dollar, www.sanddollarswim.com, Age 1 – 6 years, Vest £37, Shorts £17
Bling Bling Swimsuit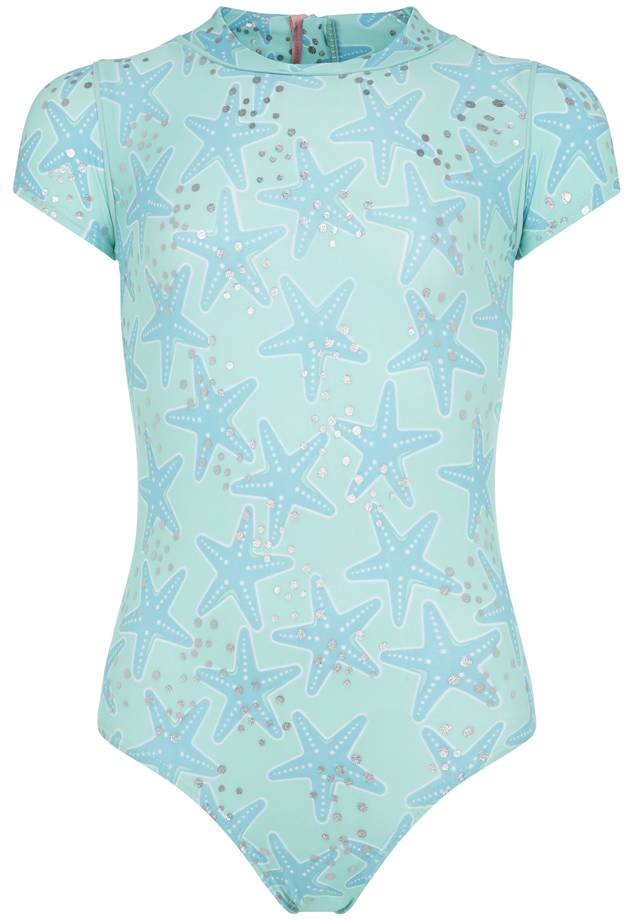 As with all the sand dollar range, this girl's swimsuit is made with UPF 50+ protection to keep your girls safe from harmful rays. Its breathable fabric will make it comfy to wear and its fast drying quality means your kids can be in and out of the water as often as they like. This powder blue starfish design is made with distinct sparkly detail that any girl will love and a funky contrasting zip at the back.
In case you're not familiar with the sun protection ratings, UPF is the ultraviolet protection factor that measures protection provided in fabric, just like SPF measures sunscreens. 50, is the highest you can get and allows only 1/50th of UV radiation to get through, blocking out 98% UVA or UVB.
Sand Dollar, www.sandollarswim.com, Age 3 – 12 years, £44
Hollywood Swimsuit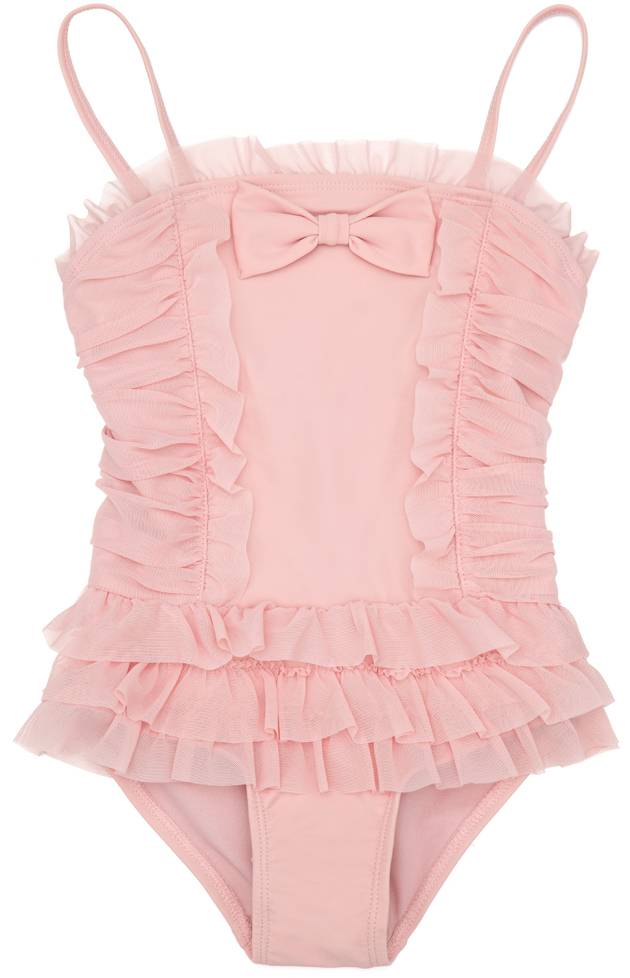 The name says it all, inspired by the glam of America's west coast, if you have a daughter who likes to look her best this frilled classic takes a turn back to the 50's.
The new collection from Angel's Face caters for girls aged from one to eleven and comes with UPF 50+ protection. It's fully lined with adjustable straps for the best comfortable fit and available in pink or yellow. A young Greta Garbo in the making.
Angel's Face, www.angels-face.co.uk, Age 1 – 11 years, £38
Cargo Style Palm Print Trunks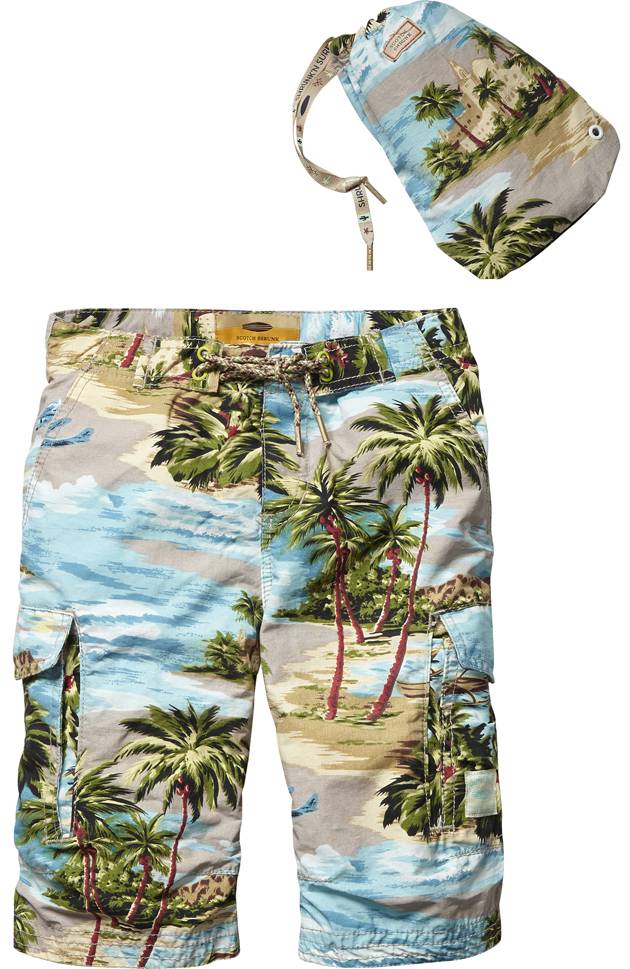 Longer length in design, these palm print shorts from Scotch Shrunk slap a high five to the board short surfer look. With a drawstring waist and plenty of pockets to house treasures, they work well for swimming, beaching or easily worn as ordinary shorts.
The palm trees scream California so they might look out of place for a trip to Blackpool but hey if they can pull it off, go for it. Easy to wash, they come with a matching pouch to keep them safe and to really embrace the look, there's also a matching t-shirt available.
Five Boys Clothing, www.fiveboysclothing.com, Age 6 – 12, £45 (Currently on offer for £27)
Monkeys Rash Vest & Monkeys Swim Shorts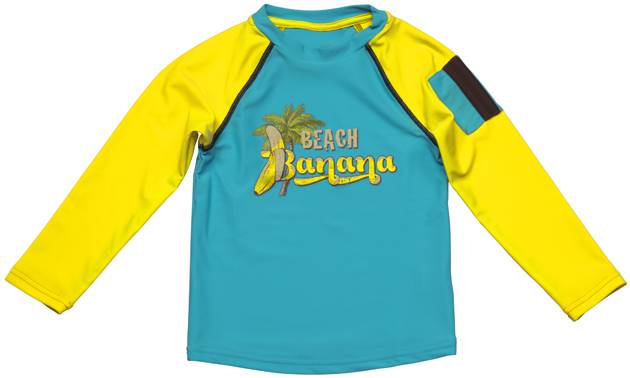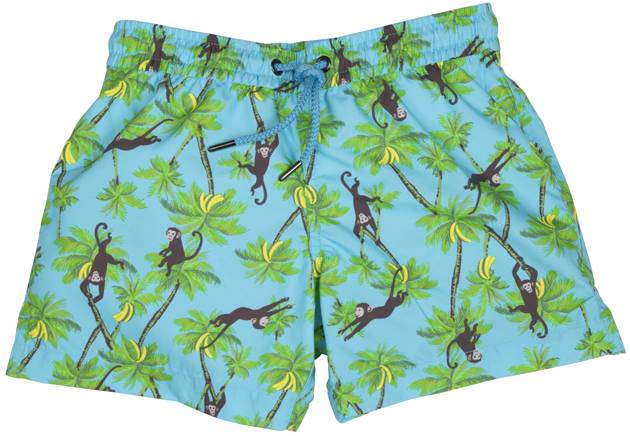 Originally invented in the 70's, rash vests were designed to protect surfers from catching their skin on their surfboards. Now, rash vests are extremely popular for adults and kids as a way to protect from UV rays and prevent burning. Most kids can spend hours on the beach no problem, from swimming and sand castles to burying dad into a large hole. Rather than have to lather up in copious amounts of sun cream, a rash vest offers a great solution.
Born from a gap in the market 8 years ago, Sunuva creates kids UV swim and beachwear with funky designs that kids will love. The Monkeys vest and shorts is one of our favourites with a banana monkey print in bright blue and yellow. Both vest and shorts are made from UPF 50+ fabric, machine washable and quick to dry. The vest has a cool pocket detail on the sleeve and the shorts have a drawstring waist and a useful Velcro back pocket. Stylish and fun.
Sunuva, www.sunuva.com, Up to 14 years, Vest £39, Shorts £38
Indian Paisley Swimsuit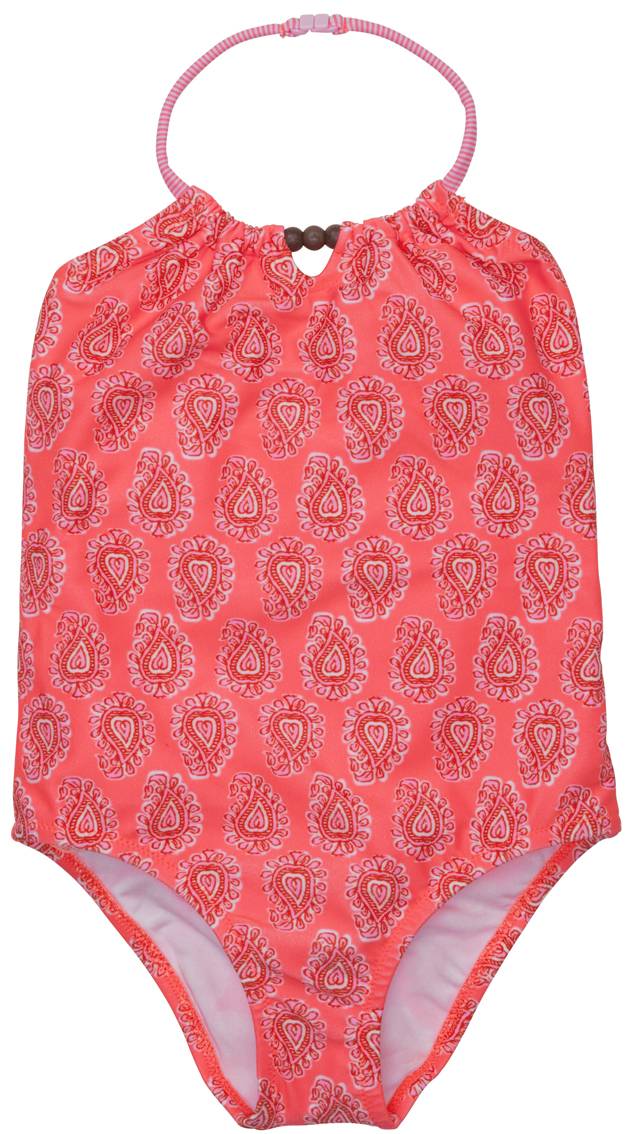 One of Sunuva's new arrivals, the paisley printed girl's suit is inspired by Rajasthan antique block prints with a paisley design and wooden bead detail. As with the full range, the fabric is UPF 50+ and machine washable.
UPF protective clothing will always carry a higher price tag compared to regular swimsuits but when you think of protecting your kids, there's no price too high. Think of the excessive bottles of sunscreen you won't need to buy and you'll barely be out of pocket. Your girls will love it.
Sunuva, www.sunuva.com, Up to age 14, £38
Children's UV Sun Safe Swimsuit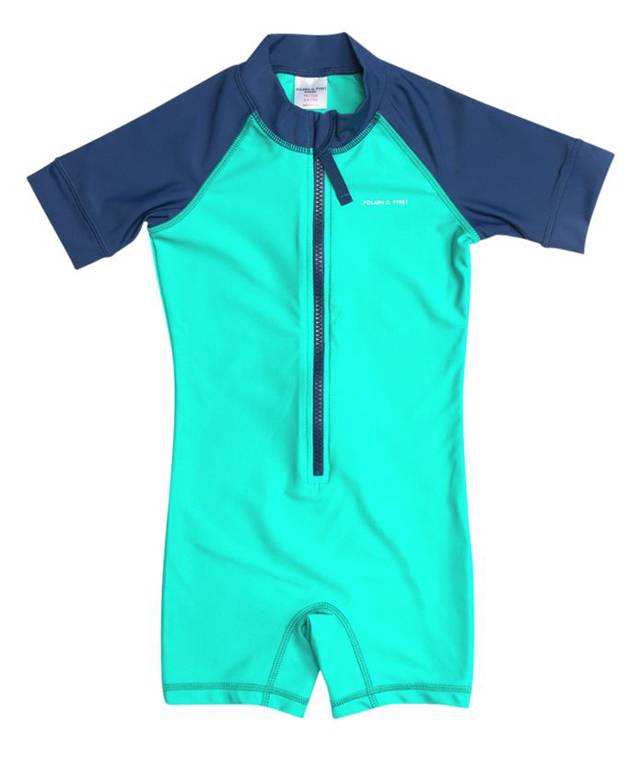 One of our favourite kid's brands, Polarn O' Pyret (POP) has been designing practical and long lasting clothes for over 30 years. POP's range is always assured to be vibrant and long lasting and this sun safe swimsuit is no different. With a good stretch in fabric to sit firmly against your kids skin it will protect them with its UPF50 from harmful UV rays.
The front zip comes down to the navel making it easier to get on and off. Available in a green or pink with contrasting sleeve colour, this is a beach time classic that will last the test of time. Great for long days of swimming, snorkelling and sandy beach fun.
Polarn O' Pyret, www.johnlewis.com, Up to age 6, £35
All-In-One Sun Pro Suit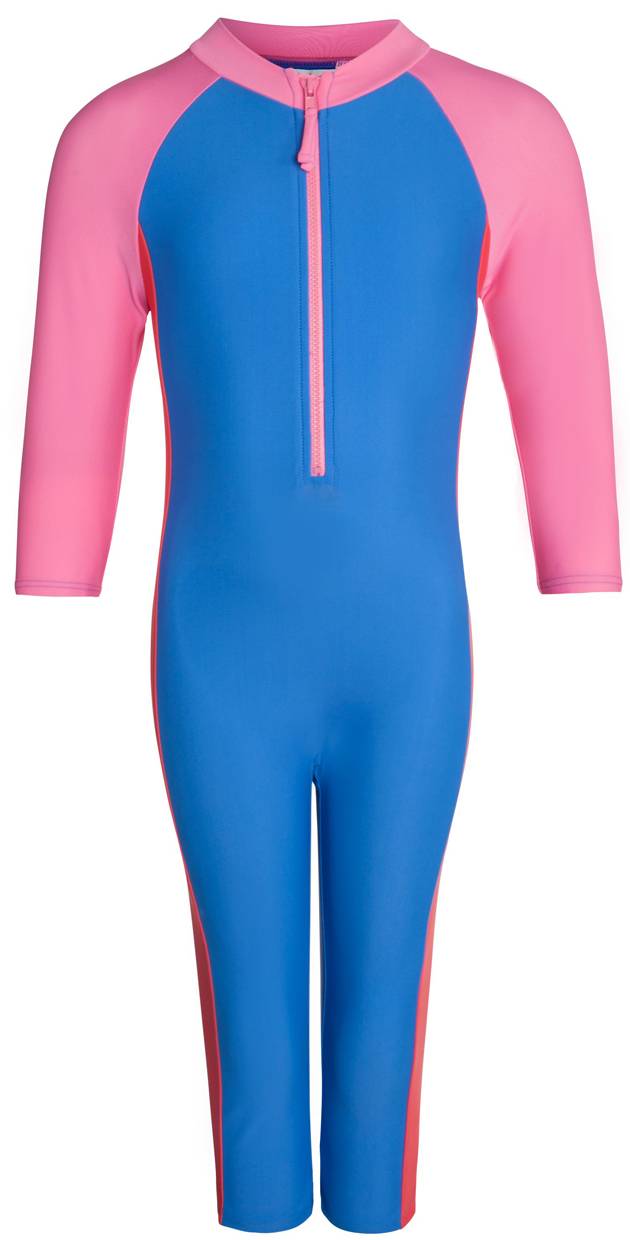 This is a great value for money sun suit. Ideal for swimming in the sea or long days on the beach, it's the only suit here the covers not just the torso but full arms and legs. If your kids are the type to burn easily this all in one is a great solution.
It's bright in colour and finished with a long front zip for easy dressing. Machine washable at 40 degrees means you can stick it in to wash with everything else. Nice and easy.
John Lewis Girl, www.johnlewis.com, Age 2 – 10, from £18
Daddy & Me Swim shorts – Lobster Shorts & Flamingo Shorts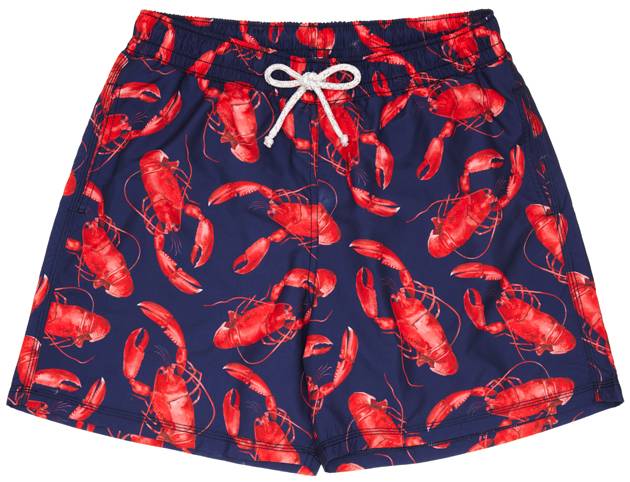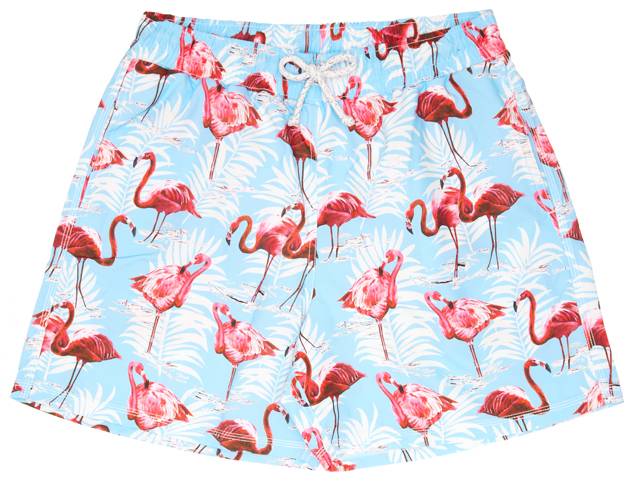 What better way to have some daddy bonding time than to invest in some matching swimming shorts with your little man? From opening its first shop in Chelsea 25 years ago, Trotters continue to provide fantastic quality clothing for young kids. Its new range of uniquely designed trunks is not only for kids but for the first time are now available for daddies too.
Both the lobster and the flamingo prints are vibrant and great fun, with elastic waistbands with drawstrings and a pocket at the rear. Introduce the world to your mini-me.
Crocodile Swimwear, www.trotters.co.uk, Age 3 months – Daddy Size, £27 – £49