The great thing about buying wellington boots in the UK is that they're an all year round investment. Whether it's for hunting out big puddles or digging in the garden, you can't go wrong with a solid pair of wellies. Choose from our great range of styles and encourage your kids outside this winter
Kids Namos Wellie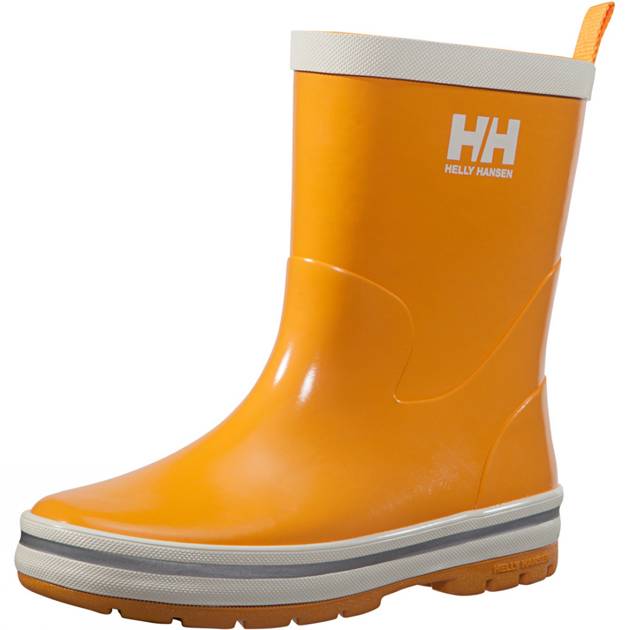 For classic boots that combine style and comfort you can't go wrong with the Namos Wellie from Helly Hanson. Producing weather protective gear for over 135 years, the company's central focus has always been on rubber boots. The namos is a timeless design available in four different colours – yellow, red, black and cobalt blue, all with a tasteful white trim at the top and bottom. Built with solid rubber it provides great weather protection for your kids and is perfect for year round wear.
Helly Hanson, www.cotswoldoutdoor.com, £30
Utility – Khaki Boy's Lace Up Boot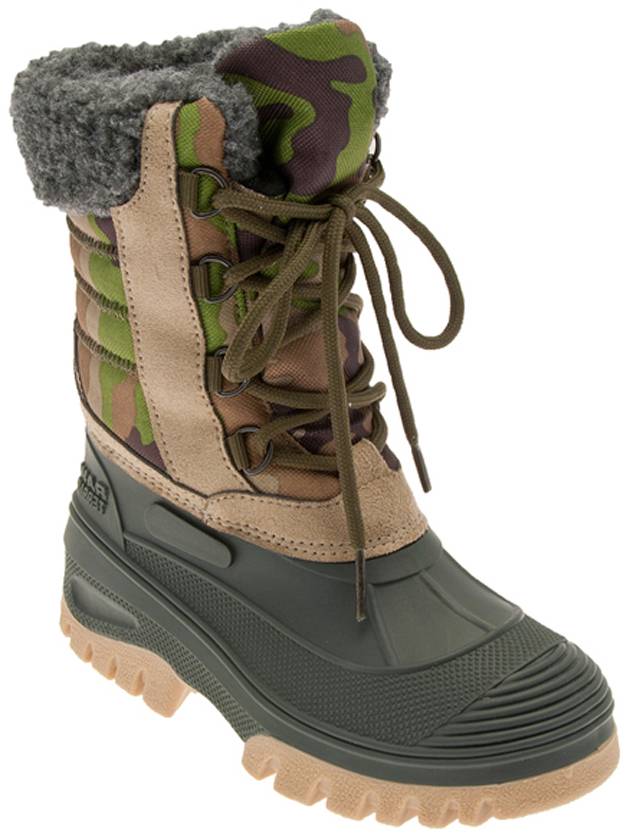 Although Startrite list this camouflage wellie as boy's lace ups, they will just as easily fit into your girl's wardrobe too. Well thought out both on practicality and design, these wellie's are unique in every way. Lace ups at the front not only look cool, they just as importantly offer more control over fit with easy adjustability. The fleece lining is ideal to keep those nippy toes warm and with padded ankles for comfort, it ticks every box. Style and practicality rolled into one.
Startrite, www.startriteshoes.com, £35
Fox Wellie Boots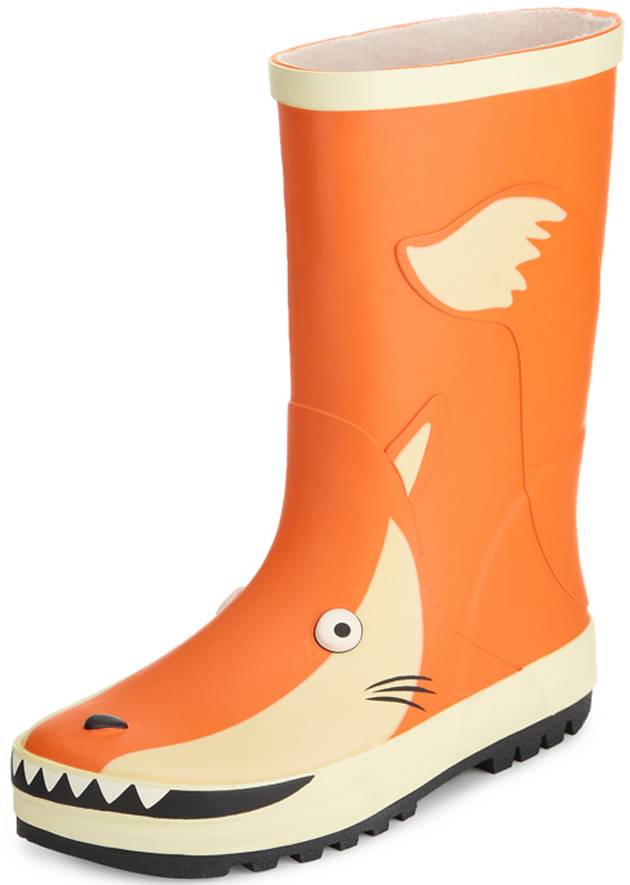 If your kids are after something with more character to help them go strolling in the woods, then these Fox faced wellies from Marks and Spencer is just the job. Orange in colour with black soles, the front resembles a fox's face with beady eyes, black nose, pointy ears and sharp teeth. There's even a bushy tale designed to sit on the back of each boot. These wellies are lots of fun and a great way to get your kids out and about.
Marks and Spencer, www.marksandspencer.com, £12 – £16
Boys Stripe Wellie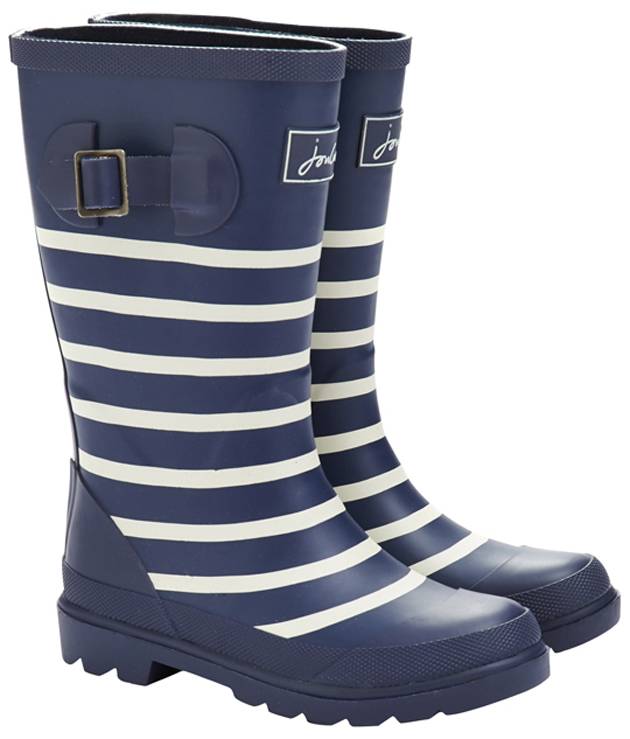 Famous for its patterned wellies and take on fun designs, Joules was first started by dad of two, Tom Joules, who created his brand for families who love the outdoors. As part of their great kids range this season, these boys blue wellies come with a reflective tab against its blue and white striped design. The buckle on the side adds a stylish touch and although this particular design is labelled for boys, it would easily suit both boys and girls alike.
Joules, www.joules.com £24.95 – £29.95
Caggie Rain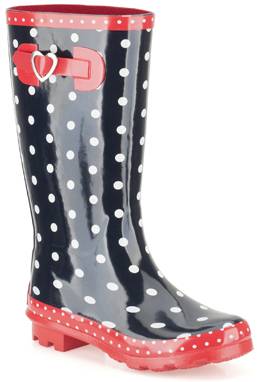 If your girls are after something to stand out from the crowd, these Caggie Rain wellies from Clarks will definitely fit the bill. Designed in a British red, white and blue, these glossy navy boots come splattered with white polka dots all over and bold red detail on the top, base and heart shaped buckle. Lightweight and waterproof it ticks the practicality box for you as well as the stylish one for your favourite little girl.
Clarks, www.clarks.co.uk, £20
Hunter Original Gloss Wellington Boots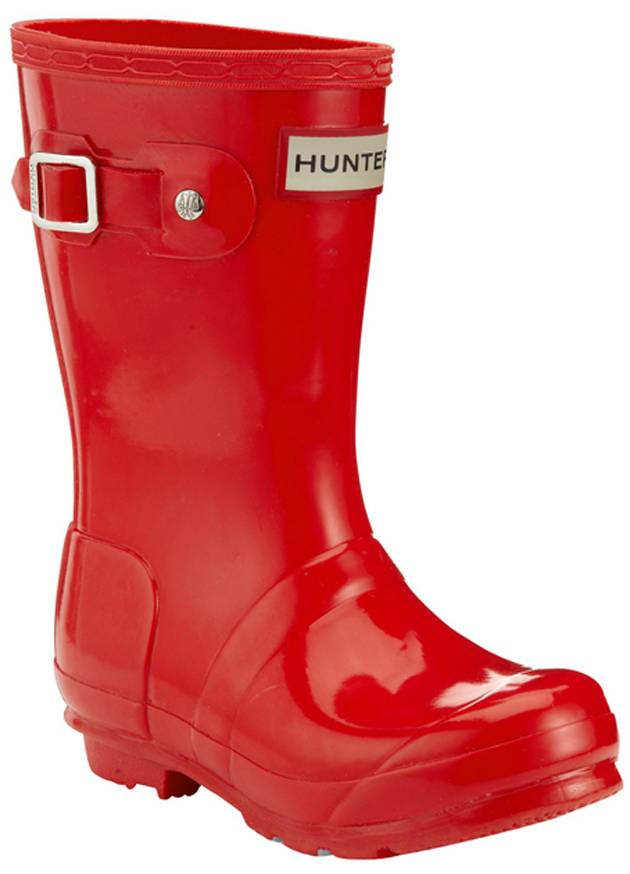 For you, your teenagers and now for your toddlers, Hunters have been the leading brand in wellington boots since the 1800s and were even the biggest supplier of boots through both world wars. Handmade from natural rubber, this style comes with a bright glossy finish. The original kid's design has all the features of the adult version but includes reflective patches on both front and back for visibility and safety. Although its history and style carry a heftier price tag, it's still a favourite amongst families of gardeners, ramblers and those after any outdoor fun.
Hunter, www.johnlewis.com, £40-£60
Handle It Rain Boot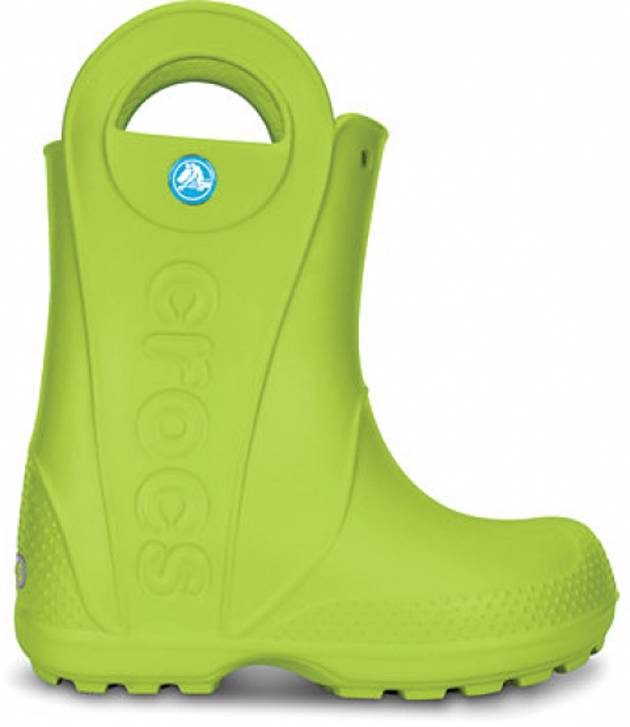 The release of the Kids Handle It Rain Boot will no doubt be a favourite with the little ones in your household. Available in a range of bright colours, which are famous of Crocs, the molded croslite material is perfect for cushioning and comfort. The design has a reflective logo on the boot heel, which will keep your adventurers visible and the carry handles moulded at the top make for a fun design that kids will love. Extending their footwear beyond the summer time, Crocs are catering brilliantly for rainy day comfort too.
Crocs, www.crocs.co.uk, £19.99