Getting your kids to save for the future doesn't have to be something boring. Once they start school, teaching them the concept of money and how to build towards something they want is a great skill to impart. Even if your university fund plan gets ditched in favour of the latest Lego, you'll be helping them understand a notion they will carry into their adult life. Make it more fun by buying them a cool moneybox they can enjoy adding funds to. Just make sure it's not you who ends up raiding the piggy bank
Red Ceramic Owl Money Box Bank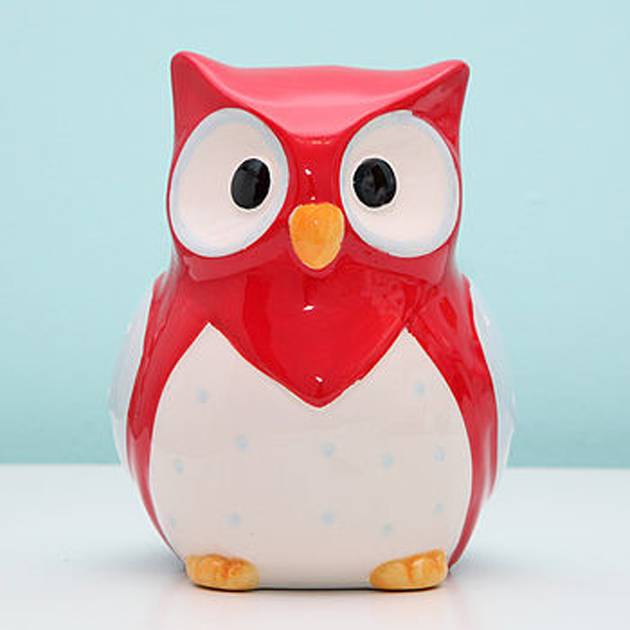 This traditional wise owl looks like a trustworthy friend to keep charge of your children's pennies. Bright red in colour and made from ceramic, it will stand out well in any kid's bedroom. At 14cm in height it's the perfect size to sit on a bookshelf or dresser and will become a symbol of what to look forward to.
Typical of a moneybox it has a slot to the rear and a rubber stop on the base, easily removed when it's time to evaluate those riches. Great value for money and perfect for kids of any age, this owl is timeless in design and would make a great gift for any time of year.
Red Berry Apple, www.notonthehighstreet.com, £9.75
Churchill Bus Moneybox
This savings money bus is nothing short of charming. Its vibrant colours and animated characters are something no child will tire of. If your kids are on the younger side the bus alone will encourage story telling on each of the many people painted into its windows. Great attention to detail, the bus includes a driver, ticket conductor and a host of interesting passengers with different characteristics.
It's sure to make the saving more fun and encourage some silliness at the same time. The painted opening words from the nursery rhyme 'the wheels on the bus' may have them breaking into song but perhaps that's the time to dig deep into your pockets and donate some funds into the large money slot.
Churchill, www.johnlewis.com, £15.00
Peers Hardy ATM Bank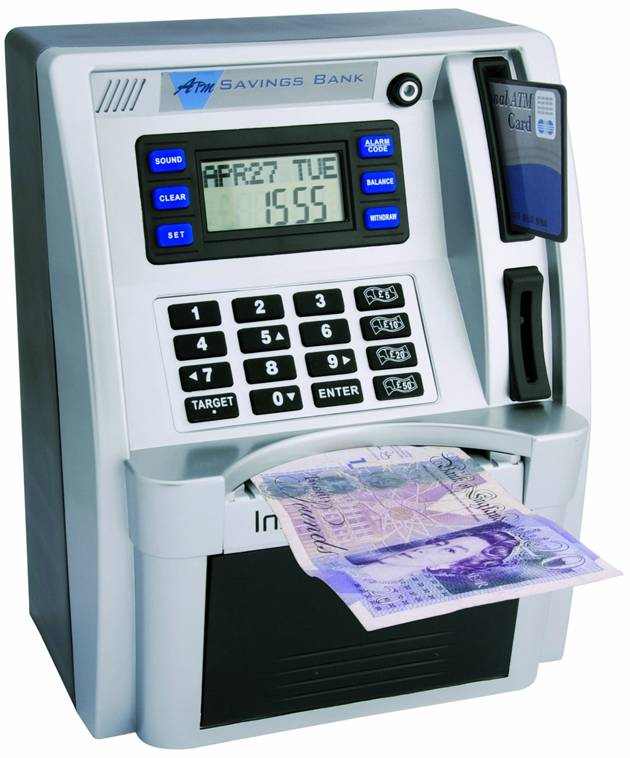 This is an absolute gem for your older kids and teenagers. It's a machine that replicates a high street ATM bank and will be their very own hole in the wall – genius. The machine lets your kids deposit money to save and even recognises the different coins and notes inserted. They can withdraw funds as and when they need and check their remaining balance at any time. The fun bit is that it includes a bankcard and changeable 4-digit PIN number that they'll need when using it.
It's the perfect solution to teach them about targets and manage their own money. The machine even makes real ATM sounds and lights up when used to add to the excitement. The 3 AA batteries are included and additional features of an alarm clock and calendar are great. Your kids (and you) will love it.
Amazon, www.amazon.co.uk, £23.20
Personalised Zoo Animals Piggy Bank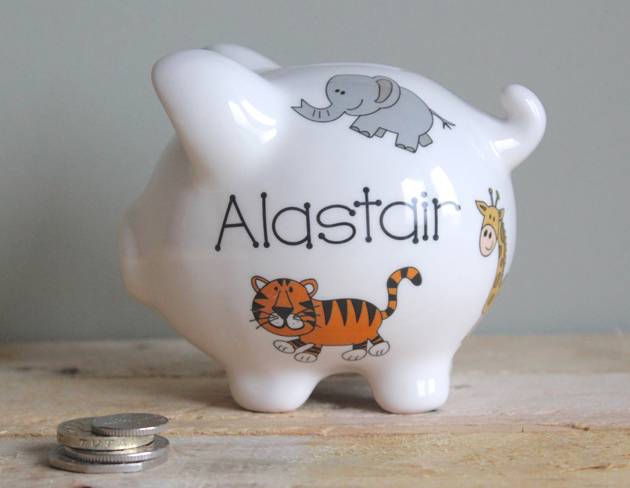 If the old school traditional methods are what works best in your household then you can't beat this personalised piggy bank. Ideal for the younger savers to learn the concept of money, this is great as a kid's first moneybox. The zoo animal prints feature a host of animals from an elephant, tiger and hippo to a giraffe, monkey and zebra.
If animals aren't their thing there's a range of other designs available to choose from. The pigs are available in two sizes and can be personalised with a name and optional message, making it the perfect gift. Similar to our red owl, these piggy banks are made from ceramic with a rubber stopper at the bottom.
Sparkle Ceramics, www.notonthehighstreet.com, £25