Do you remember what it was like when you got your first 'grown up' bed? For kids of any age, a bedroom is a space they can call their own and a safe haven from the grown up world around them. Invest in a special themed bed and make their room even more fun. There are only a limited number of years they can get away with a racing car or tepee style bed and at least this way you have an excuse for trialling it out yourself. Just don't do a goldilocks and get caught in it red handed…
Junior Moon Bed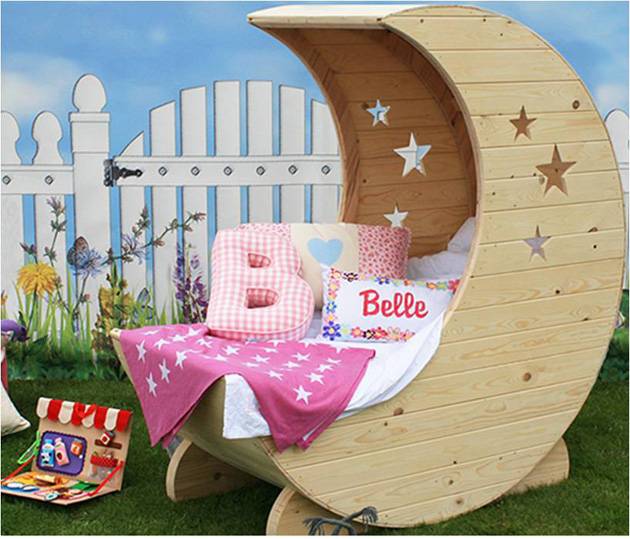 This junior moon bed from Dorothy & Theodore is a beautiful transporter to a land of make believe. The sleeping area lies within the moon crescent itself, which sits on a strong sturdy base.
Available in sizes for a toddler, junior or bespoke made for a large junior, each bed has been uniquely hand crafted in pinewood by skilled craftsmen with decades of experience. The carved out stars in the woodwork complete the illusion and will make this bed a beautiful focal point of any room. Your child really will love you to the moon and back.
Dorothy & Theodore, www.dorothyandtheodore.com, £358
Teepee Cabin Bed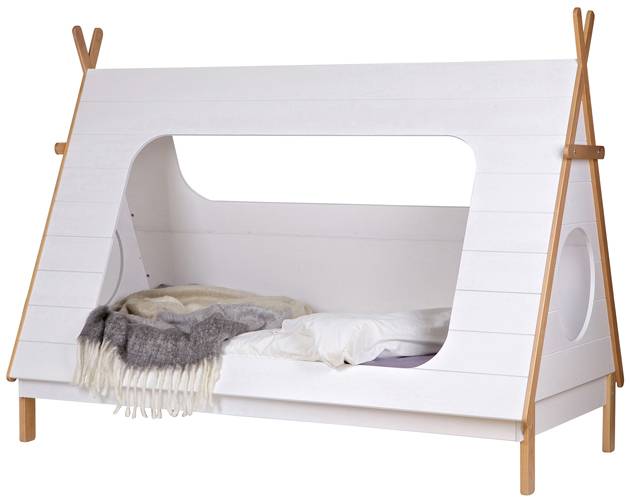 For the adventurers at heart your little American Indians will love the design of this tepee cabin bed. Made out of white solid pine, the exposed frame is very authentic and really will make them feel that they're out in the wild. Made by talented Dutch craftsman, Woood has been making children's furniture for over 30 years combining years of expertise with unique contemporary designs.
The bed itself features look out holes and will create the perfect scene for a cowboys and Indians battle. To complete the look there's also a desk and bookcase available in the range – A perfect way to fuel their imaginations.
Woood, www.cuckooland.com, £399
Discovery Astronaut Bed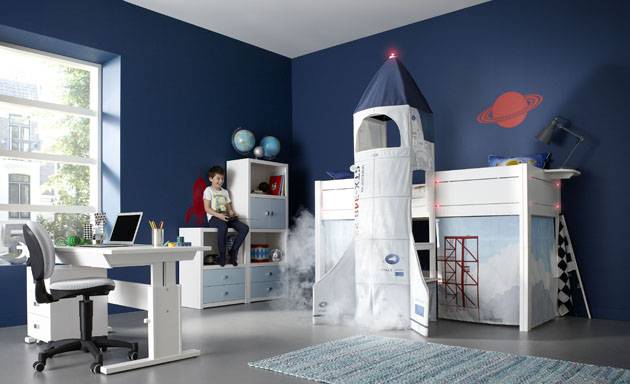 Handcrafted in Denmark this astronaut space rocket bed really will transport them to a galaxy far away. You'll have to dig deeper in your pockets for this one but exploring the universe doesn't come cheap. Made to order, this luxury bed is designed with ladder and safety rail bars to the bunked sleeping area and space ship curtains for the hideaway play den or homework area underneath (also a great place to hide aliens).
Living in space is not something they'll tire of just don't get cross when they never want to leave this world. The discovery shutter for the ladder is a gem and really brings the bed to life. Made from solid knot free pine and whitewash finish to preserve its beauty.
Lifetime, www.cuckooland.com, £1595
Harper Bed
With an Alice In Wonderland feel, Mini Eden has created the perfect collection of grown up furniture for little people. Classic in design, the bold colours along with the children's friendly sizes make this range unique and fun.
The harper bed comes with a tall headboard and winged edges for an added touch of charm. The bed's frame is upholstered well to provide comfortable padding and is available in small and standard single. Timeless in design this is truly exquisite.
Mini Eden, www.minieden.co.uk, £439
Avery Bed
If it's a classic bed you're after with a fairy tale twist, the Avery bed is a wonderful choice. With a majestic crown shape to its headboard it provides the perfect place for your prince or princess to drift off to sleep.
As with Mini Eden's other range of beds, the Avery is built with comfort in mind and comes in a choice of eight vibrant colours. Available in small or standard single, it will last through an entire childhood, creating wonderful memories along the way.
Mini Eden, www.minieden.co.uk, £295.20
Sonic Turbo Racer Bed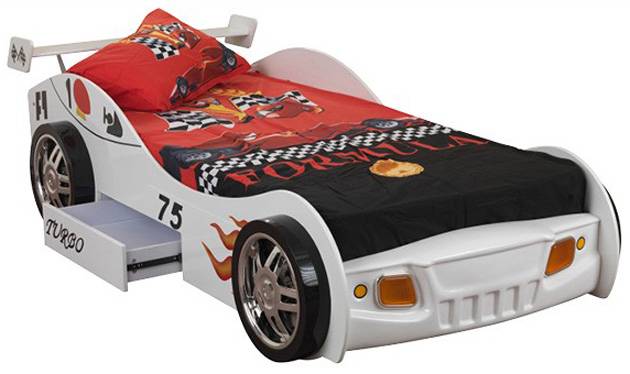 This is the sort of bed every little (and possibly big) boy dreams of. With full car features from headlights and racing wheels to a spoiler and indicator, your little man may want to spend his entire childhood on this bed. The frame and design is modelled on a turbo racing car and made out of solid wood.
If you need a practical reason to get away with this purchase, the storage drawer should tick that box for you. As with most of the beds here, you'll need to pay extra for the mattress but with your new title of 'coolest dad in the world', it will surely be worth it.
Little Mattress Co, www.littlemattresscompany.co.uk, £319.99
Sweet Dreams Ruby Mid-Sleeper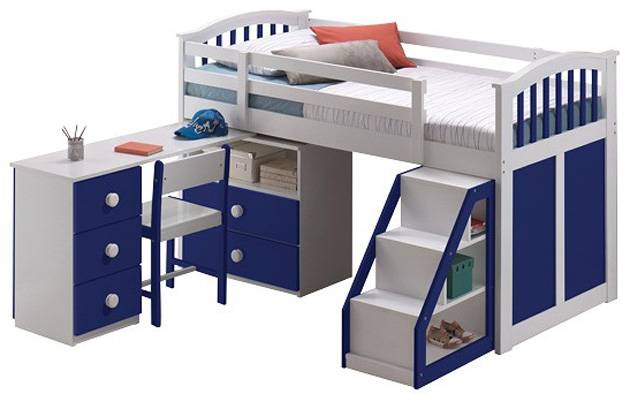 If novelty beds are not your thing and you're looking for an all round solution for your child's bedroom, the ruby mid-sleeper will tick a lot of boxes. It combines the perfect sleep, storage and play space all in one and is available in a choice of three colours – pink, blue and white.
The sleeping area is made with solid safety rails and a folding wooden staircase to reach the top. The desk, chair and under bed storage ensures that this bed will last them from the early years and through to school.
Little Mattress Co, www.littlemattresscompany.co.uk, £559.99
Bear Hug Toddler Bed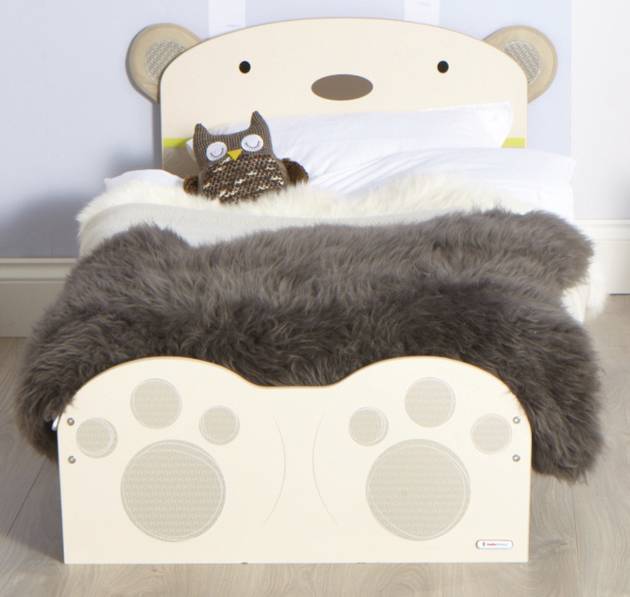 Not too big, not too small, this would be Goldilocks' favourable choice. If you're worried about moving them from a cot to a big bed, a transitional toddler bed is often the way forward. The BearHug bed will make them feel safe with its friendly headboard face for comfort and protective side panels to stop them falling out at night.
It has been built lower to the ground to help their confidence and encourage them to be independent. With two under bed drawers, there's plenty of room for their toys and the range includes a desk and toy box to complete the look.
HelloHome, www.worldsapart.com, from £99.99
Cool wagon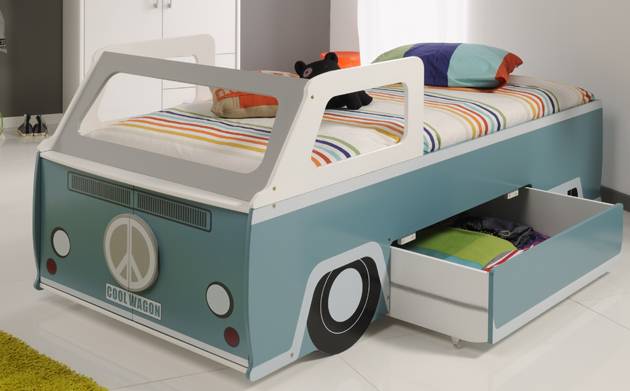 Making your kids happy when you're after a more practical solution is not always an easy compromise. Room To Grow's product range has grown from a want to please both you and your kids and offers solutions that are both stylish and practical. What could be cooler than a VW style wagon bed parked up in their room?
Designed by French designers Parisot, the wagon bed comes with an under bed storage drawer that can be accessed from both sides and a front cupboard with double doors. It's like a car, bed and toy hideaway all in one, providing the perfect solution to make everyone happy.
Kids Avenue, www.roomtogrow.co.uk, £320
Neutron Bunk Bed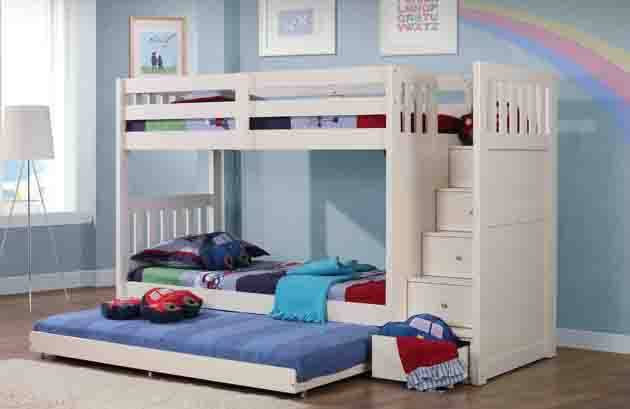 Whether you've got more than one child or want a bunk bed so your kid's can have friends over to stay, the neutron is a fantastic choice. The top bunk is reached by climbing the wonderfully crafted steps, which some parents prefer to ladders, in case of any nighttime wandering. The steps also have the added bonus of storage within each one.
In addition to the top and lower bunk, you have the option to add an under bed storage drawer or instead, have a trundle bed with mattress as a third space to sleep. The Neutron is a solid piece of furniture finished in white for a sleek clean look and is a great solution for bigger families or if you need more sleeping options.
The Children's Furniture Company, www.thechildrensfurniturecompany.com £999