Tablet computers have hit the bargain basement. A couple of years ago, if you could find a tablet for less than £200, you'd pretty quickly wish you hadn't…
Fast forward to present day and even the £100 mark has been bested, with budget tablets now offering performance that belies their pocket-money price. Here, we take a look at six of the most popular tablets under £200. If you're after a bargain, this is where to find it…
Toshiba Encore Mini
The newest tablet in this list, Toshiba's Encore Mini was announced at the IFA trade show in Berlin in September. Budget tablets typically run on the Android operating system in one form or another, but Toshiba's new baby bucks that trend. It's instead powered by Microsoft's Windows 8.1, and comes with a year's subscription to Office 365 and 1TB of cloud storage on OneDrive. You're getting a lot for your money, then, since this tablet costs less than £100. It's the quality of the screen where that saving is most apparent – the Encore Mini has a distinctly low-res 1024×600 display.
Specs
Screen: 7″ (1024 x 600)
Processor: 1.33GHz quad-core
RAM: 1GB
Operating system: Windows 8.1
Weight: 350g
Storage: 16GB
Price: £99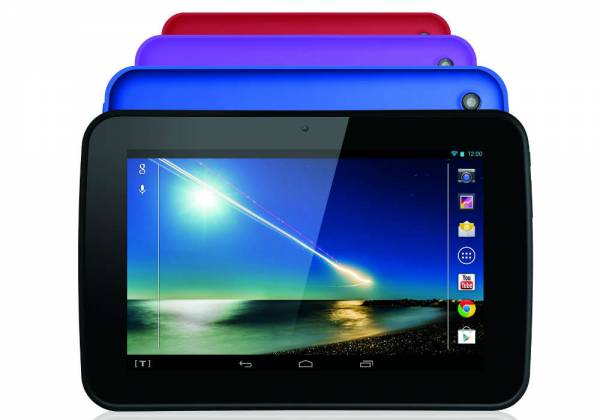 Tesco Hudl
Forget tablets under £200, this supermarket special weighs in at less than a ton. If the idea of picking up serious electronics at the same time as your bread and milk still seems a bit weird, then think again. This is no cheap own-brand rubbish – the Hudl is a genuinely decent bit of kit. Screen quality is normally one of the first things to suffer as the price tag drops, but the Hudl's seven-inch display with its 1440×900 resolution is crisp and sharp. Although its not the nippiest performer, it does offer good battery life – and its 16GB of storage is expandable to 48GB via microSD.
Specs
Screen: 7″ (1440×900)
Processor: 1.5GHz quad-core
RAM: 1GB
Operating system: Android
Weight: 370g
Storage: 16GB
Price: £99

LG G Pad 7.0
There aren't too many surprises to be found with LG's budget 7-inch tablet: it pretty much offers the standard specification of entry-level Android tablets. Still, that's tough to argue with when its price is so keen. There's certainly nothing here that you could consider a let-down. Its processor does the job fine and its screen is reasonable. The main niggle is really its built-in storage. You'll want to have a microSD card on hand in order to boost its puny 8GB to something more useable.
Specs
Screen: 7″ (1280×800)
Processor: 1.2GHz quad-core
RAM: 1GB
Operating system: Android
Weight: 293g
Storage: 8GB
Price: £129