What if the next bike you bought came with a guarantee to flatten even the steepest of hills? That's what you're getting into with an electric bike; a best-of-both-worlds combination of free-and-easy cycling allied with throttle-twisting electric power to take the strain out of the most outrageous of inclines
Cycling purists don't like them, but if lycra was never your thing anyway, then an electric bike is the perfect way to get the best of cycling without the sweat. Here's our pick of five top-drawer e-bikes guaranteed to get you moving.

Best for big spenders: Storck Multiroad Carbon 36v
Storck doesn't mess about when it comes to bikes. After all, this is a company that offers a special edition road bike at an eye-watering £15,000. This e-bike is comparatively cheap then, though at £4,500 you're probably going to want to be offsetting the cost against the rail travel season ticket you'll no longer need. Your outlay gets you a rigid carbon-framed bike that's built for road speed with a silent motor that kicks in to give your pedalling a boost whenever required. As with all ebikes, its motor speed is limited to 15mph. That's so it avoids being classed as a moped, so you can ride it on UK roads without the need for a crash helmet, driving licence or insurance.

Best for looks: Smart e-bike
If you want your powered set of wheels to look like a genuine slice of the future, look no further than the Smart e-bike. While many e-bike manufacturers skip the aesthetics by strapping a big rectangular battery to their bike's frame, Smart (yep, the same Smart that makes those dinky city cars) makes the whole shebang look unfeasibly elegant. A near-silent ride is assured thanks to a carbon fibre belt that replaces the standard bike chain, while the bike's battery is recharged whenever you pedal, go downhill or apply the brakes.
Available from: Smart
Price: £1,800

Best for long commutes: Beatbike
One of the main advantages of buying an e-bike is that you can use it as your main method of commuting. But if your trip to work is so far that you'll still need to hop on a train for at least part of the journey, then a folding e-bike makes perfect sense. The Beatbike folds away into a compact shape, while also offering the benefits of electric power. Importantly, it's also light – at least in e-bike terms – weighing in at just 14kg. The compromise to its compactness and light weight lies in the power of its battery. You can expect no more than 12 miles before it needs recharging – so this is really one for short hops only.
Available from: Beatbikes.com
Price: £499.99

Best for sporty types: Haibike SDURO FullNine RC
This yet-to-be-released model from Haibike will eat up the hills whether you're on-road or off. Its full-suspension frame irons out the bumps and jumps when you're going cross-country, and both front and rear suspension can be 'locked out' when you're on road to save you energy when pedalling. The other thing that will save you energy, of course, is the Yamaha motor. Haibike reckons this will give up to 80 miles of powered assistance, with the bike's LCD display showing how many of those miles are left. This model should be available in the UK by November 2014 at the latest.
Find out more: Haibike.de
Price: £2,699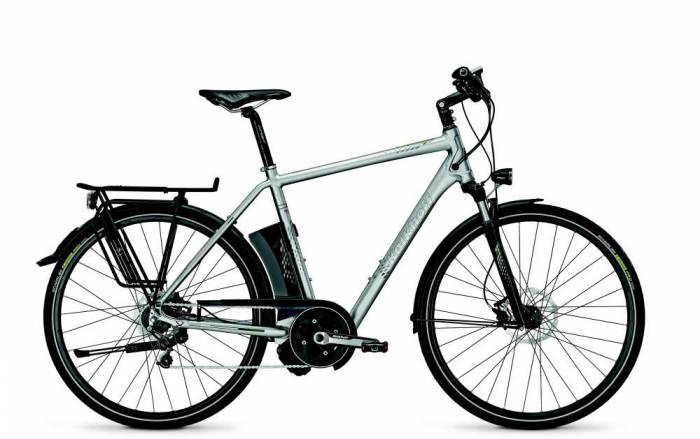 Best for speed merchants: Kalkhoff Endeavour Impulse S11 Alfine

Pretty much every e-bike you can buy in the UK comes with a motor that maxes out at 15mph; and with good reason. Go above that speed and your e-bike suddenly becomes a moped, with all the helmet, insurance and licence requirements that entails. That's not bothered Kalkhoff one jot, it would seem, as this speed machine will power assist you all the way up to a nippy 28mph. Hydraulic disc brakes, puncture-proof tyres and a battery that gives up to 50 miles range are among the highlights of a bike A to B magazine dubbed "the Porsche of the electric bicycle world."
Available from: Kalkhoff Bikes
Price: £2,995