Do you make time for family chats around the dinner table, or do your kids spend more time playing with their tablets than talking? Chief Executive of the Family Matters Institute and DAD.info, Trevor Single, witnesses a tech takeover while dining out on holiday in Mallorca…
I'm on holiday in Mallorca and what I experienced in a restaurant in Palma last night caused me to reflect on the time when families used to eat and talk together around the meal table.
I will set the scene. A lovely tapas restaurant with people enjoying good food and the Mallorcan nightlife. A British group of six adults and two children aged around seven and nine enter the restaurant and sit at their reserved table. Immediately the parents produce iPads and headphones for the children and then engage exclusively in discussion with the other adults. The children sit quietly in a very well-behaved manner at the end of the table, watching their videos and cartoons while the parents physically turn their backs on them to hold the 'adult' chat over glasses of wine and mojitos.
When the food arrives my expectation is that the iPads will be set aside. Instead, the parents position them so the children can eat while continuing to watch as the others continue their 'adult' chat all through the meal.
It's very easy to be judgemental about what I saw, and this easy option is probably one that most of us have all taken at some stage. The temptation is to just keep the children happy and quiet while you chat with your friends. It can be hard work at times keeping children entertained and involved in a restaurant while other diners (such as me on this occasion) are watching your very interaction with them.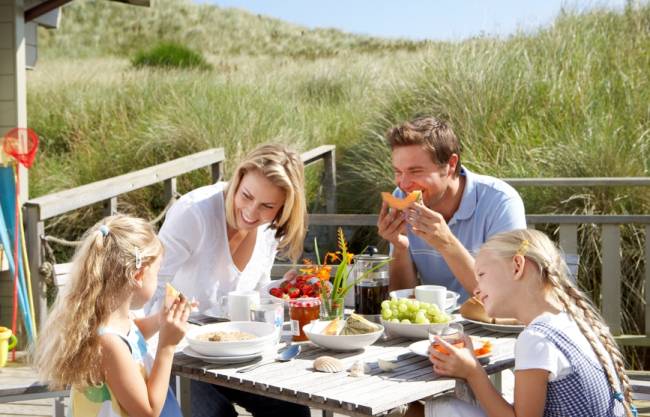 BUT meal times are a fantastic opportunity to sit with your children (and those of your friends) and chat through the day, particularly on a holiday. It's great to talk about what you've done that day, the unusual things you've seen and what you might all do tomorrow. Bring the kids into the main conversation, rather than relegate them to the end of the table (like the dinner guest that everyone tolerates but tries to avoid sitting next to), and they'll have plenty to contribute, too.
Technology can be a fantastic teaching tool and form of entertainment, but how will children learn the necessary socially interactive skills with adults, brothers and sisters if they're not exposed to them in everyday situations like mealtimes, where they're encouraged to engage in real-life conversations?
When will those children – already hooked on technology – be told by their parents that it's no longer acceptable to sit at the table watching videos and they should chat with everyone else? Or will they simply migrate to mobile phones instead and bury their heads in the vast array of social media on offer there?
Seeing those children and their parents in the restaurant reminded me of the Victorian saying, 'Children should be seen but not heard at the dinner table'.
NO. Let's do the opposite and involve them fully. Put them amongst the adults rather than at the end of the table, and get them contributing to the conversation.
The happiest times are when our children are part of our lives – not accessories that we can detach ourselves from when it suits us.
How do you feel about kids using their tablets and mobile devices at the dinner table? How do you keep your kids engaged at mealtimes? Let us know in the Comments section below.