Kids are plugged in all summer, but the parents are just as bad…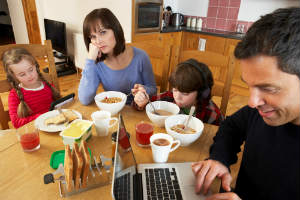 We're used to hearing that our kids are spending too much time using smartphones, games consoles and other technology.
But research released today suggests parents are no better.
Four in 10 (39%) children aged between seven and eight say their parents spend too much time using gadgetry, according to the results of a survey carried out in schools across the country by Start-Rite Shoes.
Almost half (46%) of those children believe their parents spend more time either online or watching TV than chatting with their family.
The survey suggests those technology habits are being quickly passed down from parent to child.
One fifth (20%) of those seven- and eight-year-olds say they are already using their devices for four hours or more a day. Around three quarters (71%) admit they would feel sad or lost if their device was taken away for a week.
Perhaps less surprisingly, at least for those of us who remember reading by torchlight under the covers, 44% of these children use their devices in secret. A quarter (24%) use them after bedtime.
But while our own parents warned us of square eyes from sitting in front of the TV too long, today's children have perhaps greater concerns.
Biomechanics coach and physiotherapist Martin Haines warns: "A sedentary lifestyle can seriously harm a child's development as their gait continues to develop until the age of 15.
"Movement is essential for the body's physical development so it is important that we encourage our children to lead active lives if they are to develop and grow healthily."
Getting them away from those gadgets might be easier said than done. When asked about the summer holidays, over a third (38%) of children between the ages of seven and 11 said a 'games console, mobile phone, tablet computer' or their 'internet connection' would be the hardest to give up. But it's not all bad news.
Almost half (44%) were looking forward to spending more time with their family and playing outdoors, compared to only 5% who want to spend more time online.
And the best way to reach those children who just want to stay indoors plugged in throughout the summer? A hashtag of course. Start-rite is urging parents to share memories of games from their own childhood using #passiton.