Thinking of buying the ultimate boy-toy, a drone? Connor Keenan, Drone Specialist at Jessops, chooses his top five flyers…
1. Mavic 2 Zoom & Mavic 2 Pro
Designed to mimic the sharp edges and smooth lines of a sports car, Mavic Air Is the equivalent of just that: fun, fast and still punching way above its weight class in specs. Shooting 100mb 4k at 30fps, 12MP Stills in RAW and all this fits into a foldable package that can easily fit into any lens compartment of a camera bag or pocket, making it perfect for backpackers and travel nuts. It may only be 12MP but it's still hundreds of feet higher than what you can capture with a DSLR.
3. Phantom 4 V2.0

The Phantom 4 Pro V2.0 Is exactly what its name says it is, Professional. The sleek, elegant white design has been iconic in the drone industry for years both with amateur and commercial pilots. However even though the body is almost Identical to the Phantom 3, it packs massive upgrades under the hood. With a 20MP 1 Inch sensor, allowing gorgeous Imagery and video up to 4k at 60fps, if you're looking to go pro without spending upwards of £5k, this is the Drone for you.
4. Spark

DJI's Spark is up next. 'Seize the Moment' Is Sparks' tagline, and it does just that. For a beginner drone, Sparks' fun factor is through the roof. With all DJI's Signature Tech such as Palm Launch and Gesture control, Spark gives the user 16 minutes of flight time, over 30mph at the top end, full HD 1080p video and up to 2Km transmission, straight out of the box: Spark is pure fun.
5. Tello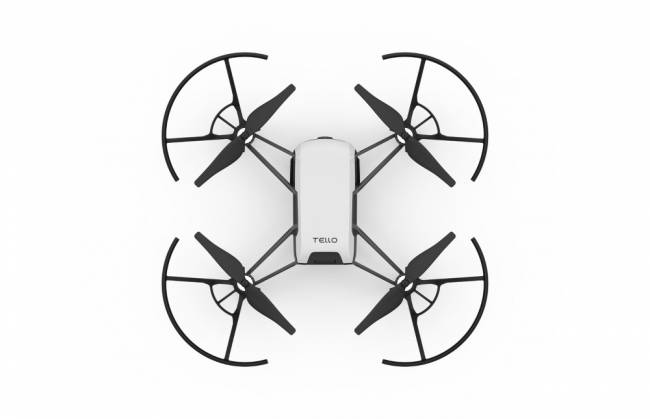 Tello is a perfect entry to the drone world for the younger generation, Designed by Ryze Tech and Powered by DJI, Tello allows users to not only learn how to fly a drone, but how to programme the device to fly itself. In terms of value for money it's unmatched – for £99, Tello offers HD 720p video, 13 minutes of flight time and it can even do flips.
To purchase any of these drones and more, head to jessops.com/drones