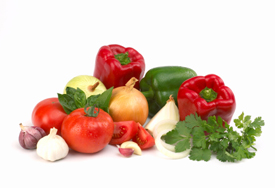 As a child in the 1980's I remember an advert for Bejam (the forerunner of Iceland) which had the tag line:
"Choc Ice and Chips? don't tell your mother………"
Whilst I had my boys for a few days in half term I was on a restricted budget and tried to plan healthy but economic menus, before they arrived. This pre planning went out the window when they arrived; my boys are not fussy eaters but they do know what they like.
The youngest is a human hoover and will eat most thing's which makes him fairly easy to cater for, the only issue that needs to be taken into consideration is volume – he is 5 and will often want 3 Weetabix for breakfast !!. As a sports and exercise scientist I am aware he is a bit over weight but his diet when he spends time with me is fairly balanced.
My oldest is fussier – he will eat what he is given when he is hungry but like most non-resident parents you don't want to have to spend every meal time fighting over what to eat!. SO I have now developed a stock pile of items my boys will eat. In no particular order: Heinz tins – no beans , Sausages – any size but pork is a preferences, Lasagne – home made, Cheesy Pasta – home made, Snack foods for tea inc scotch eggs, pork pies and pepperoni Yogurts – any variety but tipper corners or tubes are more favoured than other varieties. My boys never want sweets, which is a great help when you are on a budget, but they do have an insatiable desire for fruit.
Strawberries and grapes are their favourites and the odd apple and banana – I have to explain that garlic although a member of the Onion family doesn't count as one of the five a day when it is garlic bread!! They will eat vegetables as part of a roast and roast parsnips and carrots are a favourite but try like most young boys trying to avoid vegetables if they can.
This half term was frugal and involved a freezer challenge, making meals out of what was in the cupboard and freezer. This felt awkward at first, not being able provide the food I wanted to make or knew the boys would like BUT it became a bit of a game where they designed the menus, they totally bought into the programme and in so doing 'ordered' dinner and ate it. Though what my ex will think of roast parsnips smiley faces and ham, or the more exotic fish fingers in a jar of Italian tomato sauce I don't know!
I like to think of this as pre training for life as a university student!! We have to start their aspirations young ….. but they did also do sausage sandwiches,pizzas and pasta.
What I rediscovered was my love of cooking – but also my creativity, and that kids are fussy if you give them lots of choice. When we have A or B and nothing else, they will choose and eat the best option for them. Needless to say when Gran sent some money to take them out after a swim the choice of McDonald's or KFC was well debated and KFC won…. But it was one time that when we went out to eat. I felt my boys appreciated that it was special, and they ate everything provided. The corn on the cob was demolished in double quick time as were the fruit winders, which my son pointed out, that they are one of your five a day !!! I don't know whether the clean plates were as a result of them being starved by my creative cooking or due to having an energetic swimming session, I prefer to think it was the latter.
I know for future I will always have ingredients in the cupboard for the quick fixes, the need for tea in a rush, but also I am looking forward to cooking from scratch more and allowing my children to help choose what they eat. Food shopping may not be such an exciting activity for two young boys, but being involved in cooking their own meal certainly can be.
But I suppose I have to ask Choc Ice and Chips – are my kids ready for that? I think they are …… just don't tell their mother!!!.