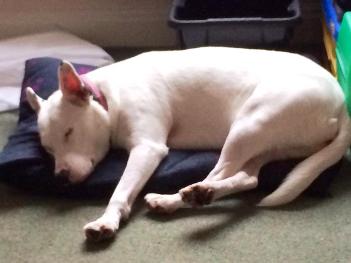 We were on the drive home from school when my sons started to tell me about a new kitten that their mother was to get them that weekend. My youngest asked if I was getting a pet, and I explained that as our new rented house allowed pets, my partner and I were considering a dog. We had found a rescue dog called Mitzy that we thought was ideal.
I explained that she is four years old, a Border Collie Cross , she has been a stray, then rehomed but had to go back after 9 months because her new owner had had an operation and was no longer able to keep up with her needs for walks and an active lifestyle. I showed them a picture and explained that they would have to meet her before we said yes and only if they got on with her and she with them would we adopt her.
Never has a single comment evoked such wrath from their mother. By the following morning I had received a long email talking of my children's fear of dogs and explaining how inconsiderate I was getting a dog. This was an interesting read, as she has never liked dogs and during our marriage was unhappy even visiting my mother and her dogs, but the boys love them. She claimed my eldest was worried about it, though he had said nothing to her … she got that impression . My eldest can be a little bit wary when he first meets a new dog but then settles but the youngest loves to curl up with them, play and take them on long walks- he has been known to swim in the river with the dogs at my mother's – don't ask, thats another story.
It is a shame that getting a pet would cause so much anguish for my wife. She suggested that a dog would lessen my time with my boys and I felt that this was an indication that my wife still has a need to try to control what I do. I have had to address this, not as her having a go but to try to mitigate her concerns. This has involved taking her worries on board by demonstrating I am a thoughtful father, and show her that I am introducing the 'dog' to my family slowly, pointing out the children have experienced my mothers dogs with no ill effects and highlighting the benefits of pets, ones she is aware of due to the kitten they are getting.
I explained that we were considering a rescue dog from the Blue Cross, and the adoption process would include familiarisation visits. I pointed out that I am taking the boys to meet the dog and only if the Blue Cross where happy would any adoption proceed. When we took the boys to meet our possible dog they both got on well with her, but it was also getting them to understand dog speak, reading what a dog does and understanding it. Within 15 mins there were no worries, no anxious children, none of the fears that my ex-wife was concerned about. The photos they had and the stories they took home of playing with the dog would have pleased my ex-wife. I am sure her fears must have been allayed after she saw the boys getting excited, recounting their adventure with Mitzy.
Instead or fear both boys loved it and are now really looking forward to coming around to my new house and spending time with me and walking the dog. I am looking forward to some nice walks and enjoying shared fun and adventure.
Till next time.
The views expressed in this blog are solely those of the blogger and do not necessarily represent the views of Dad.info.