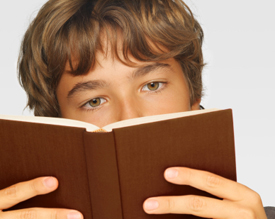 I love reading. I always have one or two books on the go, and during my marriage would often be accused of wasting time reading when I could be doing something useful like cutting the grass.
Reading isn't a useless activity. Children who grow up seeing parents regularly reading, in my mind, gain an understanding that reading is good thing. Now it doesn't have to be Shakespeare, Victor Hugo or any of the classics, all reading is good, be it the newspaper, magazines, a physical book or e-book.
Reading with my children has been one of the things that as a 'non-resident' parent ( I hate that term) I really miss. Reading to my kids at night was a calm time of shared experience, a precious time of closeness, a special time to be near to your children when they relax.
As kids grow older they don't want a parent reading stories to them, I have a half-finished book that my eldest son wants to finish on his own now. The experience is still a shared pursuit as he enjoys discussing what he has read, the story is retold and the next book planned …. from Beast Quest, The Young Samurai, Alex Rider, the Babysitter Club, Jacqueline Wilson and The Faraway Tree.
Being a dyslexic, I found reading aloud difficult, especially as we progressed onto small font books – and often would find my self getting comments like…" that's not right daddy "…" mummy says it is said …. " or " mummy says you say it wrong!" . These challenges hurt at first because I felt they exposed a failing in my abilities as a Dad. I would joke about them and say "I would say it however they wanted". On reflection I should not have been concerned about the quality of my reading. My reading isn't perfect but it's expressive, passionate and full of energy, which always makes it enjoyable. This criticism made me begin to read a chapter or two ahead, to ensure that I got it right in my head before I read to my boys.
On reflection, I should have considered the implications of these snippets of feedback from the children. I missed pointers about how my wife felt about things in the marriage, mild criticism of you by a partner to your children may not appear much, but please don't ignore these seemingly innocent remarks. Talk about it with your partner, it may be nothing but it could also be the first signs of issues that could develop if not addressed. I didn't think to talk to my wife about her criticism of me to the children, and now over 5 year later I am a 'Non-resident' parent!
When reading with a child I suggest you try and be consistent, if it is at night-time make it part of a routine, with time to talk and cuddle afterwards. Perhaps talk about the book in the day – wonder what is going to happen or comments about characters …what would Horrid Henry do? These are things that a child will do as part of their English work at school but spending time it in a non-formal setting with your child will help reinforce it.
I personally don't like reading school books at bed time. I think a child should feel the stories read at night are special for them and not associated with school. As my children get older I like to vary the reading sometimes using a nonfiction book or article. My youngest is tractor mad and I had a period of 3 months where the various John Deere catalogues and fact sheets for tractors, agricultural machines and Yamaha quad bikes were the books of choice at bedtime together with Postman Pat of course!!
As a child grows up, this bedtime routine changes. I miss it not seeing my boys every night at bedtime. They read to themselves now, but I encourage and support when I can. The fact I miss it, just shows me how special it was to me and I hope to my children too.
Happy Reading!