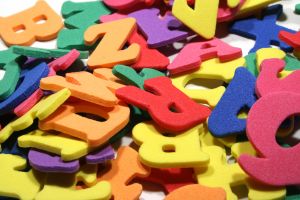 "You're a poo poo," said Meri, my three year old, with an impish grin on her face. She knew she was being naughty and was looking for my reaction.
I thought about it for a little while and decided to ignore it.
A few days later, I came downstairs from the loft where I had been wrestling with a computer that had spent the last three days crashing, to find my family sitting around the breakfast table. Clare looked at me with narrowed eyes.
"She keeps saying the P-P word," she said.
"Yes, I know, it started a few days ago." I replied. "She's probably learnt it from nursery. It's her first attempt at a naughty word."
"Well, she shouldn't say it. I'm going to put my foot down." Clare was adamant.
"I've been ignoring it. I figure that if we make a thing of it, it'll only encourage her. She knows she's doing something forbidden and the thrill of it will soon wear off."
"Well, I've told her not to. I wasn't allowed to swear at all growing up in my household." Clare responded.
"What went wrong?" I asked smirking, making mischief.
Clare's eyes narrowed yet further. She thought about swearing at me but thought better of it.
To come clean, neither Clare or I are strangers to the odd profanity now and again. Furthermore, I must confess that I have sworn (in rare moments of extreme stress and frustration) in front of the children. However, we have a golden rule that we never, ever swear at the children.
"We need to agree an approach and be consistent. Let's talk about it and figure out what we do. I agree, we don't want her wandering around saying 'P-P' at every opportunity."
Meri, who had been listening intently to every word Clare and I said looked at us both with a very familiar naught little grin on her face.
"I need a poo poo," she said.
The views expressed in this blog are solely those of the blogger and do not necessarily represent the views of Dad.info.