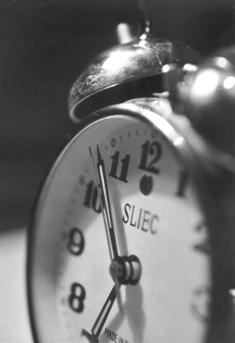 Clare and I were lying in bed on a Saturday morning at about 7am.
"Oh no!" I said as I heard the patter of little feet making their way down the landing towards our room, "Meri's up."
Clare groaned and turned over and snuggled into her duvet hoping that she could turn it into an invisibility cloak that would spare her from the oncoming onslaught. Miraculously though, our bedroom door didn't open and an excited and recharged three year old didn't burst into our room.
Meri has had her new bed for a couple of months now and our training that she can only come into our room when her Winnie-the-Pooh clock says it's morning (this happens at 7.30am) has been unbelievably successful. However, the embargo on entering our room clearly didn't extend to her brother's.
We listened intently on the baby monitor as she went into Arun's room and proceeded to have a lovely chat with him whilst he was still in his cot (because of his disabilities Arun is still in a cot despite being five years old). Next came the sound of giggles that turned into cackles of laughter as the two of them played some sort of game, invisible to us over the medium of the baby monitor.
Then the unmistakable sound of two small children bouncing furiously in a cot and laughing manically.
Finally came squeals and cries as they fell out over something.
The whole episode had lasted about fifteen minutes and Clare and I had stayed in bed and listened spellbound as our two children entertained themselves together. One of the things I have always wondered was how would Arun and Meri get on without us? I am aware that every time we are with them we are setting the rules and changing the dynamic of their relationship.
The fifteen minutes that Saturday morning had given me a small insight into what they really thought of one another and I think I have some grounds for optimism for their fledgling relationship. One thing we are always telling them is that they have to be good to each other and play nicely together because mummy and daddy won't always be there and they have to learn to get on all by themselves.
Eventually, the squeals turned to screams and Clare turned to me, "Off you go, time to impose some parental discipline."
"Why do I have to go?" I bickered back.
Clearly a case of do as we say, not as we do.