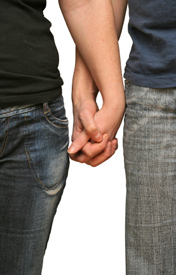 The atmosphere in the car was tense. We were pulled up on the entrance to a farm track and the lorries and cars were thundering past my window as a few specks of dirty rain fell from a grey, ominous sky.
"I can't say I'm not disappointed," I started, "Hell no, I'm not disappointed, I'm devastated, totally devastated."
No answer.
"Fifteen years, we've been together. Fifteen happy years and you've never, not once, let me down. And then you go and do this. All that love, all that trust. It's all gone out of the window now."
Silence – guilty silence.
My rant was interrupted as I caught sight a flicker of yellow lights in the rear view mirror. The AA van pulled up behind us and I opened the door. I got out of the car, squelching the mud of the farm lane beneath my shoes and approached the AA man as he got out of his van.
"Just died on me mate. I haven't driven it for about three weeks. Started fine this morning but then conked out. The ABS light came on, then the airbag light, then the brake system warning light started flashing and then it just died."
"Sounds like the alternator, "said the AA man confidently. "We can patch up a temporary fix and get you moving again."
My beloved golf GTI turbo and I have been together since he was a baby. I bought him new and in fifteen years of driving he has never let me down. I've known him longer than I've known my children, longer than I have been married, longer than I've known the majority of my friends.
I've got a good marriage but not a perfect one – I have to work at it to make sure it stays strong. I love my kids but they spend almost as much time driving me up the wall as they do being adorable. The one relationship that's always been hassle free has been with the golf. Whilst friends of mine upgraded their cars as their careers took off, I remained devotedly loyal. But now it felt like this failure, this break-down, this betrayal had changed everything.
I blathered something like this to the AA man. He smiled kindly at me, "It hasn't really let you down has it? It's just the alternator brushes have seized up. Fifteen years is good going for an alternator."
He fitted a new battery and straight away I was up and running – the engine humming smoothly with a faint turbo whine just discernable in the background.
After dropping the car off at my local garage, I jumped into our other car and went to pick up the kids from school.
As I walked my five year old son Arun to the car, he stopped. His face fell and he let out a wail.
"I don't want the Land Rover car! I want to go in the golf car!" he bellowed.
"Sorry Arun, the golf car is broken. It's being fixed." And as I looked down at him, there were real tears rolling down his cheeks. Seems I wasn't the only one disappointed that day.
The views expressed in this blog are solely those of the blogger and do not necessarily represent the views of Dad.info.