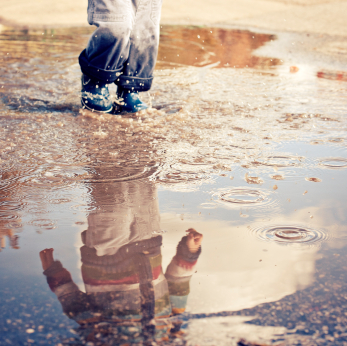 The booking for the holiday cottage we had rented in Somerset said "Beware: small unfenced stream in the garden." So, the first thing I did when we got there was to go and check out the stream to assess whether it posed a hazard to my two toddlers.
It turned out to be barely more than a trickle and so I confidently said to Clare, "We're OK. There is no way they can fall into that."
The second thing we did, was head off to the beach. My kids adore the beach. Arun, in particular, loves the freedom that a huge expanse of sand affords him. However, it wasn't always so. His first experience of paddling came at Highcliffe on the south coast. Aged two and as yet unable to walk, Clare lowered Arun, dressed in his cookie monster swimsuit into the English Channel. He squealed and retracted his little legs up to his stomach. He spent the rest of the day looking very distrustfully at his mother who had inflicted this ignominy on him and hugging his Nan who was the only one who hadn't laughed at his reaction.
Two years on and it is a very different story. On sight of the sea he made a bee-line for it and laughed uproariously as he got soaking wet in the surf. After twenty minutes of splashing around in the waves, we finally managed to coax him from the sea and started to make our way back to the car which was parked up on the promenade. However, on the way there Arun managed to get diverted again.
As we passed a particularly wet patch of sand, Arun decided that it merited further investigation. He toddled unsteadily towards it. A huge smile broke out onto his face as soon as he reached it. At first he bent down to touch the sopping wet sand. Before I knew it, he had plonked himself down in it and was splashing away.
Meri, watched him from a safe distance, being careful not to get her pretty dress dirty. Arun, on the other hand was filthy. His hands, feet, bottom, stomach and face were covered in muddy sand and he was loving every minute of it.
I turned to Clare proudly. "It's wonderful," I said, "He's turning into a proper little boy." Because of Arun's cerebral palsy, we were never sure that Arun would enjoy days like this. It wasn't just the obvious things like him being able to walk on the beach. It was also the more subtle things like touching wet or sticky sand – up until recently Arun would recoil at such challenging sensations.
And, as for that stream in the garden of the cottage? I was wrong. Two days later, Arun fell into it. Not only did he fall into it, but he found the muddiest part of it to fall into. And when he discovered that it barely came over his ankles, he sat down in it to ensure he got as dirty as he possibly could. I just stood laughing because, at the end of the day, boys will be boys.