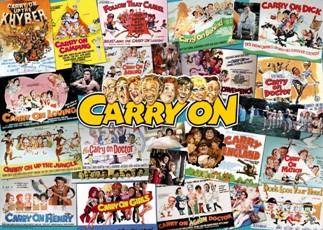 Clare and I were settling down for the evening in front of a fire with a glass of wine. The baby monitors were on and we could hear Arun chatting away to himself as he wound down for the night in his cot-bed. Suddenly there was a burst of laughter from Arun as he shouted out the phrase, "my trousers are falling down!
I looked at Clare as she laughed too. "That's a phrase from the book we were reading at bedtime, The Smartest Giant in Town." I said to Clare.
"More like a line from a carry-on movie," she said, "Carry on Arun – I can see it now."
It was my turn to laugh. She was right. Arun's life does have a lot in common with the classic carry on series of films.
Well, first off it shows that he is my son. I am currently reading Hilary Mantel's excellent Wolf Hall about life in Henry VIII's court. Clare finished the same book recently. She commented that it made her want to watch A Man All Seasons the classic 1966 film about the life of Thomas More, starring Paul Scofield and Orson Welles, that picked up six Oscars. I commented that it made me want to watch Carry on Henry starring Sid James in the title role and Barbara Windsor as Bettie Bristol which went on to win absolutely nothing but was described as a right royal romp.
Well, Arun is definitely a chip off the old block. He loves carry on humour. His favourite game at the moment involves winding up for a big sneeze "ah-ah-ah-aaahh-CHOO!" and then falling over. This is hilarious slapstick up there with the best that Harold Lloyd and Chaplain had to offer. He will do this for hours and the only thing funnier is when he convinces his sister to join in the "sneezle" game as well.
When he does laugh, Arun has a wonderful, infectious guffaw. His innocence and delight at the world shine through. Last week, a friend of ours described it as a "Sid James laugh" and she wasn't too wrong.
The similarities with Sid James don't end there. As with most young boys there is a small, tiny, miniscule strand of toilet humour running through Arun's life. One of his Christmas presents was a book called Noisy Bottoms (Thank you, Uncle Kev and Auntie Angie). This book pretty much does what it says on the tin. It is the heart-warming tale of a father and son bear walking through the forest being startled and shocked by the variety of noises that emanate from the bottom's of various woodland creatures. Indeed, if you press the buttons on the side of the book you can hear the noises that each of the bottoms makes. Clare was particularly pleased with this Christmas present.
Luckily though, Arun hasn't developed an interest in the bawdy and smutty side of the carry on films yet. I think he's saving that for a few years' time. I can't wait. However, it is going to be difficult explaining to him that such humour isn't appropriate and amusing whilst I'm cracking up myself. I think I might have to leave that conversation to his much better brought up mother.