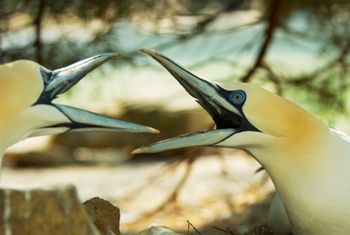 "The baby sidles up to her parents and nudges her way onto her mother's lap. She squawks, trying to attract her mother's attention. The mother, intent on her feast ignores her. The baby's squawks become more insistent and she starts to claw at her mother's neck. The mother relents and gives her child some of her food."
No, not the latest David Attenborough documentary on voracious sea birds but the view on the other side of the dining table most lunchtimes.
It isn't just her mum, Meri does her gannet impression with me as well. Yesterday, Clare had taken the kids out and I settled down to a late but lovely lunch of fried eggs on toast (it's a classic). Before I'd taken my third bite I heard the front door open. I started to panic and bolt my food but before I knew it I could hear the patter of feet running down the hall and within seconds, Meri burst into the dining room.
"What you eating Daddy?" she asked.
I didn't answer. Not only would it have been a very poor example as my mouth was stuffed full of food but I also knew that fried egg on toast is a particular favourite of my daughter. I was hoping that failing to answer would give me enough time to stuff a couple more mouthfuls in my gob.
However, Meri was not so easily diverted. She ran up to me and stood on tiptoes to look at what lay on the table.
"Ooh," she said, her eyes widening in delight, "Want some."
Again I ignored her and managed to stick away one more mouthful. However, my daughter is nothing if not persistent. She climbed onto my lap and pointed at the bite I had just cut up and demanded, "Want that bit. Want big one."
I knew I had lost and reluctantly put a forkful of my lunch into her mouth. After this it was one for me, one for Meri. And so it continued until I had just two bites left.
At this point my wife appeared in the dining room. "Hmm, that looks good," she said as she stood over my shoulder. I watched in slow motion horror as she reached round, picked up the forkful of food that I was about to eat and popped it into her mouth.
"That's nice," she said wandering off into the kitchen after Arun.
I was aghast. I don't mind sharing my food but if I know I'm going to have to share I'll make more than I want so that I don't miss out. I know that, technically, this might not be classed as sharing but the fact is that I'm a growing boy and I need my tucker.
I was left staring sorrowfully at the last piece of egg on toast left on my plate, reflecting that I had probably managed to eat about half of what I thought was MY lunch when I heard the little voice sitting on my lap.
"Want that bit." She said, pointing at my plate.
Image: © Enjoylife25 | Dreamstime Stock Photos &Stock Free Images