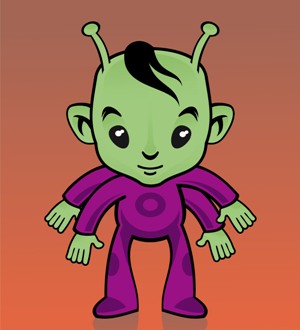 Meri turned two a few weeks ago. In this week's blog Meri's big brother Arun takes over and tells us what it is like to have a little sister.
One of my favourite songs is by the Northern Irish punk pop band Ash. It is called "Girl from Mars". Daddy says that he and Mummy used to dance to this song in the nineties in a famous London nightclub called the Garage. I don't know what the "nineties" is but I do know what this song is about.
It is about my little sister Meri.
I can remember a time before Meri arrived. It was happy, halcyon time. I had Mummy and Daddy looking after me all of the time. I had them well trained. Life was good and they had a simple and clear set of priorities – namely me. They would play with me, feed me, bath me and change my nappies whenever I wanted. There was never a conflict of interest and I got whatever I wanted.
Then this thing appeared. At first I didn't know what to make of it but something inside me told me it would mean trouble. Within days, it became clear that this new thing (Mummy and Daddy called it "Meri") was taking up quite a bit of Mummy's time. It seemed to be attached to Mummy for disproportionate periods and then would sleep a lot. I spent several days observing it and as far as I could tell it wasn't actually for anything –it had no function. It didn't play with me, it didn't feed me, it didn't bath me. It just seemed to distract Mummy and Daddy from their agreed priorities, which I remind you, were me, me , me and me.
Soon, it became obvious that Meri was not just going to be distracting Mummy and Daddy. She was also going to be disrupting my life more directly. Once she started moving she would try and play with my toys. She would sit with us when we were reading books. Sometimes she even wanted to read a different book to the one I had chosen. That's when we learnt to fight.
However, the fact of the matter is that over time I have grown quite fond of Meri. She can be quite nice sometimes. When Daddy is feeding me breakfast and has hidden my stacking cups to stop me being distracted by them Meri will go and find them and bring them to me. When I fall over, I can't stand up on my own yet. Meri will run over to me and help me up. Sometimes, when she is being really lovely she comes over and strokes my hair.
Alright, we all know that she is noisy, naughty and very annoying but at heart she's not all bad. As the line in the song goes, "I still love you Girl from Mars".
Don't tell her that though.