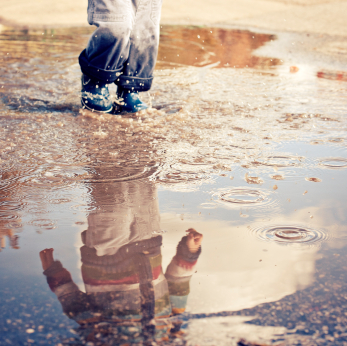 I knew we were in trouble when Clare turned to me and said, "Shall we just pack up and go home?
We were three days into our first and well deserved holiday of the year. We had booked a lovely National Trust cottage set into the walled garden of a fairy-tale castle near the Welsh borders.
The idea was that the sun would shine whilst Clare and I would put our feet up, read our books and sip wine whilst our idyllic children played happily amongst the tulips and apple blossom.
Well, the first thing that went wrong was that the sun didn't shine. In fact, it too went on holiday but not to the same place that we had chosen. In the middle of a hosepipe ban caused by drought conditions, we were inundated by a deluge of Biblical proportions. Indeed, had there been any gopher wood to hand I too would have made like Noah and started construction of an Ark to save humanity and the animal kingdom.
Next up, we all got ill. Here I am going to blame Meri and the insidious germ factory that we call "nursery school". She had a cold the week before we went away. On the first night in the cottage, I felt a little tickle at the back of my throat. Two days later it had turned into full blown man-flu that had struck both me and Arun. We were banished to sleep in the small, spare bedroom the cottage had on the ground floor. The next day, Clare was ill too.
So, come a rainy Wednesday, half way through our week away, we were seriously considering cutting our losses and breaking for home. The prospect of entertaining two snotty toddlers in a damp cottage for the next few days did not appeal.
However, we rose to the challenge and decided to tough it out and I'm glad that we did.
The weather improved a little and so did our health. We managed to get some sight-seeing in (Hereford Cathedral and the Mappa Mundi really are special) and we did some walking in the beautiful Shropshire hills. In between, we managed to get some serious rest and I think we are all better for it as a family. The time we spent being ill meant I actually read a couple of those books that I had been meaning to for the last couple of years and so, I'll leave you with a quote from one of them:
"It was the best of times, it was the worst of times". That's holidaying with children for you.