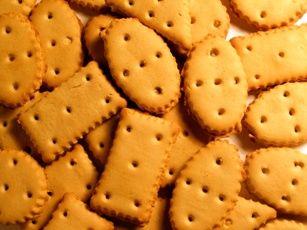 One night last night, we were getting ready for bath time. I was helping Arun get undressed and I said to Meri, my nearly three year old daughter, "Meri, can you get undressed please?
Meanwhile, she was running around Arun's bedroom like a whirling dervish giggling manically. Now, I don't like to think of myself as a killjoy so I let her carry on for a little while before saying, with a little more urgency, "Meri, calm down now. Can you get undressed and ready for your bath please?"
If anything she started circling even faster. We have a three strikes rule in our household, so, thirty seconds later I shouted at her, "MERI! I've asked you three times now. Get undressed now!"
She stopped, let out an apologetic whimper and got undressed. "You must do what Daddy says," I berated her.
The following morning we were all sitting around the table having breakfast. Clare and I had our noses buried in a newspaper. Meri sat there watching us. "Want book," she said to Clare.
Clare carried on reading, not hearing her. Meri's little brow furrowed and her eyes narrowed, "Want book. Want newspaper," she corrected herself.
Clare still carried on reading, obviously filtering out the noise from her insistent toddler.
"Want newspaper. You must listen, Mummy," she wagged her finger at her mother, "You must do what Meri says."
I laughed smugly from the other side of the table, "Yes, Mummy," I repeated, "You must do what Meri says!" Clare gave me a look that could have burnt through steel as I chuckled to myself.
Later that day, Meri had just finished her tea and had been rewarded with two jaffa cakes for having been such a good girl. I scuttled off to the kitchen planning to have a quiet cup of tea and a biscuit without being seen. Just as the kettle boiled I heard the scamper of little feet. "Have a biscuit?" Meri asked me as she came into the kitchen.
"Sorry Meri, no biscuits. You can have a pear or an apple if you want. You've got to have some fruit before you have biscuits." I explained very rationally, not feeling at all guilty about my nefarious biscuit plans.
"Pear," said Meri and so I peeled and cut up a pear for her which she went off to eat in the lounge somewhat begrudgingly.
Perfect, I thought, that should give me just enough time for my sneaky biscuit.
I was dunking my first digestive in my well-earned tea when I heard little feet scampering towards the kitchen. Meri burst into the room as I hurriedly ate the evidence. However, there are no flies on my daughter. She could see I was eating something and peered up at the second digestive sitting on the counter.
I looked at her and had to come clean. "Do as I say, not as I do," I told her as I lavishly dunked and ate my second digestive. I'm pretty certain that Meri doesn't know what the word "hypocrite" means but I think she knows what one looks like.