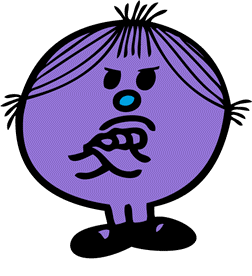 "She's ever so good. No trouble at all," Emma, my three year old daughters' nursery nurse commented as she ruffled Meri's hair. It was lunchtime and I was picking Meri up from nursery. "Really, really good."
"Most of the time she's pretty good at home but sometimes she has one of those days," I replied. Little did I know that as I walked my little Angel home, we were going to have one of those days.
When we got home, I went upstairs to change out of my suit and set about making myself some lunch. Meri was hovering around waiting to see what I had before deciding whether she was going to "help" me eat it. It turns out that grilled chicken was not to her liking and so she toddled up to me and said, "Want some pink milk."
Meri is a huge Charlie and Lola fan and in imitation of her heroine, Lola, she has recently developed a love of strawberry milkshake, or "pink milk" in Lola-speak.
I got the milkshake powder out, got Meri her cup and a spoon and we made some milkshake together. As we finished making it, Meri looked at it and scrunched up her brow, "Don't want pink milk. Want white milk."
"But you said you wanted pink milk," I responded. "So Daddy made you pink milk."
"Don't want pink milk," she insisted. Like the recently departed Baroness Thatcher, it seems this lady is not for turning.
Half an hour later, we were just finishing up baking some breakfast muffins. Meri's little eyes lit up as she saw the raisins that we were about to put into the mix. "Can I have some?" she asked sweetly.
"Of course," I replied and passed her a small handful. She ate a few and put the rest to one side.
When we were tidying up, I came across the raisins. "Do you want your raisins?" I asked Meri.
"No," she replied.
"Are you sure? If you don't want them I'll put them in the bin." I checked, only too well aware of my daughter's capricious nature.
"Put them in the bin," came the response.
As instructed, I put them in the bin. Meri watched aghast. A whine emanated from her throat which soon developed into a full blown scream, "Want raisins! Want raisins!!!"
She jumped up and down in a monster toddler tantrum. "But you said you didn't want them. Daddy said he was going to put them in the bin and you said to put them in the bin," I explained to little avail.
It took me a good few minutes to calm her down (and, no, she didn't get any more raisins). However, that wasn't the last of it. Later that day Meri had her coins taken away after she threw them on the floor and then point blank refused to pick them up. I offered her a choice: "Do you want to pick your coins up or do you want Daddy to take them away?"
"Take them away," came back the answer only for toddler Vesuvius to erupt when I did.
And finally Meri had her favourite cup confiscated after she kept playing with it even though I had told her three times to brush her teeth. By this time, bedtime couldn't come quickly enough and I was delighted to be rid of her. As I put her to bed we had a little chat, "You've been quite naughty today," I told her. "You have a big sleep and we'll try again tomorrow."
She looked up at me with her adorable big brown eyes and said earnestly, "Meri will be a good girl for Daddy tomorrow."
"You had better be," I explained calmly, "otherwise we'll be making a trip to the Hackney and Dalston home for abandoned children."