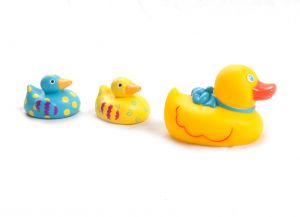 I watched a little bewildered as a naked five year old boy ran through the dining room laughing like a banshee. Arun's dark curls were flowing in his wake and he wore nothing other than a grin the size of Ohio.
I put down my newspaper. Clearly being able to put my feet up and relax was still some time away (about 20 years methinks…)
"I thought you were doing bath time," I hollered up to Clare, my wife, as I set off in hot pursuit after Arun.
I caught my errant son and, holding his hand, marched him up to the bathroom. I saw Clare standing next to the bath as she ran it.
"Do you have any semblance of control?" I asked depositing Arun back into the bathroom. She just crooked her head and shrugged her shoulders.
Earlier that day we had been talking about discipline.
"Sometimes, they just won't do as they are told." Clare commented. "You don't have that problem do you?" She asked.
"No, they're a bit scared of Daddy," I replied.
Clare turned to my three year old daughter Meri who was standing next to us. "Meri, are you a little bit scared of Daddy?"
She looked up, looked at me, looked at Clare and nodded her head.
Clare continued, "Are you a little bit scared of me?"
Meri's face broke out into a big grin, "No!" she boomed as if Clare had said something ridiculous, "I'm not scared of you!"
"Not even a little bit?" Clare implored. Meri just shook her head.
So, to paraphrase Machiavelli in his historic thesis, The Prince, should a parent be loved or feared? Machiavelli argued that if a Prince has to choose between the two, he should always opt to be feared rather than loved. Why? Because a Prince cannot make his people love him, but can make his people fear him.
I'm not sure that anyone would say that parenting should follow the same rules. Love, must always, always be the first, middle and last thing with our kids. However, being a bit scared of your parents is never a bad thing (in our conversation both Clare and I agreed that we were both a little scared of our parents).
That evening, as I walked proudly down the stairs after having reasserted control over my errant children, I reflected on what a commanding, authoritative influence I was. I was just about to pour myself a congratulatory beer when a naked five year old appeared at the foot of the stairs and started bouncing up and down whilst giggling, "I'm going downstairs!"
The views expressed in this blog are solely those of the blogger and do not necessarily represent the views of Dad.info.