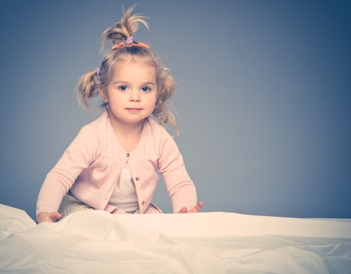 Clare and I came back into our flat in London, happy, full and a little tipsy after a very enjoyable evening out sampling the bars and restaurants of Islington. We found Steve, Clare's brother and Gaby his girlfriend perched on the couch.
"How were they?" Clare asked. "Any nocturnal adventures this time."
Steve and Gaby looked at each other and giggled. "Oh yes," they both nodded in stereo.
I sat down on the chair, "What happened this time?"
"Well," started Steve, "we heard some activity in their room around half an hour after you left so I went and had a look." When we stay in our flat the kids, Arun 6 and Meri 4, share a room with a bunk bed.
"There they were, standing there the light on. Meri was up and was fully dressed in her pink taffeta party dress. She had her hairband in and put her necklace on."
"Right…" I could sense this wasn't the end of the story.
Steve continued, chuckling, "She had got Arun out of bed too and was putting one of her dresses on him. On top of his pyjamas. When I went in they both just looked at me as if to say 'And? What do you two want?'"
"We just got them undressed and tucked them both into bed." Gaby finished, laughter in her eyes.
"So quiet after that then?"
"Oh no!" Gaby said. "About fifteen minutes later I heard Meri saying, 'come on Arun'. We slowly went into their room and she had gotten Arun out of bed again and was putting in her blue dress again. Arun was just standing there looking a little bewildered."
"This time though," Steve interjected "they had only out the side light on. Probably thinking that we wouldn't notice that one."
"I'm just glad we got to him in time," said Gaby, "A few more minutes and I suspect he'd have had hair bands, jewellery and make up on."
"What on earth did she think she was doing with him?" I asked, cracking up.
"Well, it's obvious isn't it?" said Steve. "It's gay pride this weekend in London. They're off to join the carnival."
The views expressed in this blog are solely those of the blogger and do not necessarily represent the views of Dad.info.