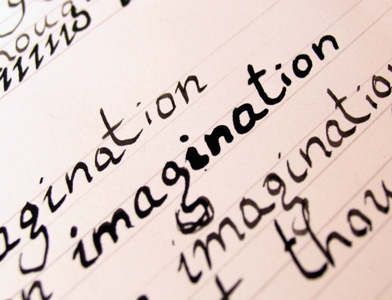 "Come and look at this," I called to Clare.
She came into the lounge from the kitchen. Arun was sitting on the sofa, holding a small bell and as we watched he rang the bell and then held it up to his face.
"Hello," he said. A stern look passed over his face. "OK," he continued. "Bye," he concluded.
Clare mirrored my expression and grinned from ear to ear. "He's talking on the phone – imaginative play," she said.
On the face of it, this is nothing remarkable. Except that this is one of the first times that Arun has done this sort of thing. Arun has autism and one common trait with autists is that they don't have very active imaginations.
So, typically where other four year old children will play with cars making "brum" noises, Arun won't. He'll look at the car, he'll spin the wheels and open and close any doors the car might have but his imagination won't bestow upon the metal and plastic any characteristics or functions that the toy doesn't actually possess, such as an engine that makes a "brum" noise.
So, to see him pretending that a bell was a phone and actually pretending to talk to someone (I think it was his Granny) was great to see.
However, it didn't end there. Another autistic trait is that children get stuck on certain activities. Some people call it repetitive play, others refer to it colloquially as "stimming". Arun often finds an activity that he finds interesting and will repeat the activity, identically, for hours if left to his own devices. One such activity is opening and closing doors. Arun will open and close the same door countless times. Again, this sort of behaviour is not uncommon in many children but most will rapidly pass through it and move onto something else. For example, Meri would spend time opening cupboard doors but would then progress onto examining the contents of the cupboard, taking them out and putting them back again. She would helpfully arrange the tins in the kitchen cupboard in size or colour order and pretend to cook with them. Arun does none of this. He just opens and shuts the doors to the kitchen cupboards.
Until this week that is. He wandered into the kitchen and opened a cupboard. He reached in, grabbed a small spice bottle and said, "I need to put this away". He took it over to another cupboard, opened the door and shoved it in there.
I was flabbergasted and delighted in equal measure. In a typical Arun sort of way, this has now become one of his favourite games.
However, this doesn't come without consequences. So far he has lost the lid from a jar of onion marmalade, tipped rice all over the floor, moved the saffron more times than I can mention and we still cannot find (two days and counting) two bottles of chocolate milkshake that were in the fridge.
But, you know what? I don't care. Two rancid bottles of milk hidden somewhere in the house are a small price to pay for progress.
Unless they're tipped down the back of my stereo that is.