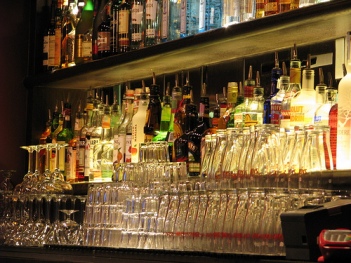 "That's a nice top," said the pretty young blonde girl standing in front of me, "cool stripe."
"Thank you," I said, "It's a football top. An old football top."
"Oh," she said still vaguely interested, "I like the stripe. What team is it?"
"It's an old, very old, Leicester City top. It's a vintage copy."
"Are you from Leicester?" she asked.
"I'm afraid so, way back" I answered, "you?"
"Birmingham," she came back.
""I'm sorry," I chirped back. I held out my hand, "Hi, I'm Mrunal"
"I've got an unusual name too," she said smiling, "Jemima."
Let me explain myself. I am a happily married man, so what was I doing in an Islington bar at quarter past eleven talking to a girl somewhere between 15-20 years younger than me? Simple, I was being a "wingman".
My old friend Andy has just come through a divorce (thankfully not that messy) and has decided that it's high time he got back "out there". Unfortunately for Andy it's been some twenty years since he's been "out there." So as a long and loyal friend, I agreed to act as his wingman for the evening and take him out in the target rich airspace that is Islington on a Friday night.
Now, it has been a number of years since I have been either "out there" or acted as a wingman and I fear I was a little out of practise. After nursing our way through three beers we figured out that standing in a corner of the bar, waiting for the band to come on was not attracting the girls like bees to nectar.
So, I decided to land Andy in it. I walked up to the nearest girl and asked her, "Have you met Andy?"
She looked a little perplexed but answered, "No…"
"What's your name?" I asked her
"Maria," she answered.
"Maria meet Andy. Andy meet Maria. Maria, I'm going to the loo. You look after Andy whilst I'm gone. Be careful he's fragile."
Job done. Only problem was that when I came back from the toilet Andy and Maria were no longer talking. Andy shrugged his shoulders, "Kept it going for about five minutes but then it fizzled out."
A few minutes later Andy had to leave to catch a train back to the deepest darkest recesses of Hertfordshire.And that was when I met Jemima.
I'd like to report that after half an hour of scintillating banter she threw herself at me. Unfortunately, that would be a lie. Instead after ten minutes of polite, slightly stunted chat we went our separate ways as the blues band in the bar came to an interval and I finished my beer. I said my pleasant goodbyes, wished her a nice evening and made my way home via Sparks Kebab House.
Seems like being a wingman, or even squadron leader was not as easy as we remembered it. Especially as being a devoted family man makes it hard to stop talking about your kids even when you're talking to young attractive women. The biggest lesson of the night though: if you're going to be a great wingman, make sure you meet the girl before your squadron leader catches the train back to Bishops Stortford.
The views expressed in this blog are solely those of the blogger and do not necessarily represent the views of Dad.info.
Image:
Some rights reserved by lcloss