Ian Soars, CEO of Dad.info and Nathan Beard, of Nathan Beard Ventures want to equip children to enjoy nature. If getting outside with your family feels daunting, listen in as Ian and Nathan explain that nature, "is far more beneficial than we might imagine."  
Nathan's life has been spent outdoor and he wants others to experience the "fascination and wonder" he finds in nature. The outdoors is beautiful and the perfect place for people to, "strengthen their relationship with others". Nathan wants to invite all families outdoors.  
The Benefits of Outdoors
Nathan believes there are so many benefits to spending time outside with family. Your and your kid's behaviour indoors is restricted, you don't have the freedom to run-around. Ian agrees, outside every Dad can be "the dad their kids want them to be". That is Nathan's experience as well. Sitting around a campfire is a great place to relax and talk. It "gives you freedom to absorb your surroundings" and let the conversation "flow naturally without awkward pauses". 
Mental Health Week
This Mental Health Week the theme is Nature and there are so many positives that come from being outdoors. Nathan has noticed that outdoors puts adults and kids on the same level. Outside Dads "don't have to worry about being the expert". Nathan also thinks time outside means mentally you have decided to "cut yourself some slack". This morning, Nathan had some things to work out so he went and sat in a tree. Being in that tree allowed him to pay his issues some attention and work out his stresses. Ian didn't sit in a tree this morning, but does enjoy climbing trees with his kids. He adds that "helping our children understand risk is a crucial aspect of being a good parent." 
So why not accept Nathan's invitation and go out into nature with your kids? Take a risk, climb a tree, light a campfire and give yourself permission to relax.  
Nathan's 5 Top Tips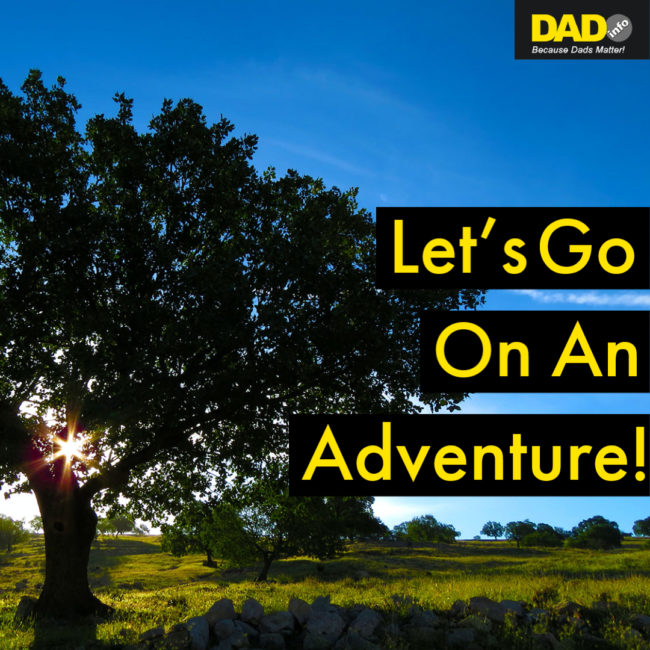 Allow for indoor-to-outdoor transition! – Kids can be very focused on what they are enjoying indoors (Lego, reading, playing), and the idea of doing something else can seem less appealing. Help everyone adjust to the new activity by giving advance information, and prepare without a big rush. Adults helping kids prepare by finding wellies, coats, hats etc can make it easier for them to transition.
Help kids stay warm and energised outdoors! – Children get colder quicker, and hungrier more often than adults. Help them have fun outdoors by ensuring their clothing / footwear suits the elements, and that you have a snack ready to hand with some water to wash it down.
Invite them on an adventure, instead of telling them we're going on a walk! – Kids may associate 'a walk' with a lot of physical effort for them, and imagine it will be hard work or boring. If it is possible to go to different places, or take different routes in known places, or go at different times of the day it helps make things novel. Taking an I-Spy book of nature or using great ideas from 'The Stick Book' or 'The Wet Weather Book' (both by Danks & Schofield) can increase the fun. Looking for particular birds, plants or insects can help your kids feel like explorers even near to home.
Play tracking games! – Essentially a mobile version of hide and seek, see if the kids can 'track' the adults by remaining hidden while following along. Every now and again the adults can turn around and see if they can spot the kids. Of course, do check often enough to keep the party together!
Bring something interesting! – A simple magnifying glass, or a pair of binoculars, a sketch pad or camera can increase fascination in the natural world. It allows the kids to focus on plants, animals and landscape and enjoy the wonder of what they are seeing in more detail. It is important for adults to stop when the children want to look at something and engage in the wonder of it with them.