Our friends at the National Literacy Trust have published some new research in partnership with children's publisher Puffin, which found that a rise in children's reading during lockdown has supported children's mental wellbeing and inspired them to dream about the future.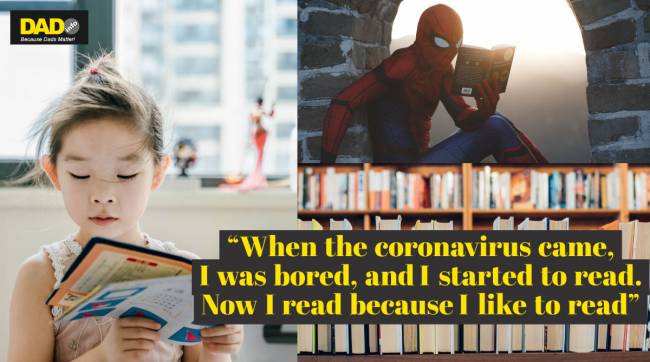 Kids aged 8 to 18 were surveyed and a huge 59% of them said that reading had made them feel better during lockdown. The idea of escaping with a good book isn't new, but with young people's freedom of movement unprecedently restricted during lockdown it is reassuring that books can help children escape. 50% of the children surveyed said reading helped them to dream about the future.
So why are children enjoying reading more?
Time, many children said they simply had more time to read. With less distractions, extra time at home, away from busy school and social schedules, allowed them to feel properly engaged with books and stories. Young people found that, even if they had not enjoyed reading before the lockdown, having more time to read enabled them to feel more immersed in a story and enjoy reading more as a result.
Top tips to get your child reading
The National Literacy Trust suggest parents make time for their children to read, give their children a choice about what they read and have also launched a fantastic top tips guide for parents to help sustain a love of reading over the summer.
Don't forget it isn't just about reading, listening to stories is great too and audiobooks can provide a vital route into stories especially if you have boys who are less keen.
Summer Reading List
If you are stuck for ideas here is a list of books Dads can read together with their kids
Ages 0-5
We're Going On A Bear Hunt by Michael Rosen and illustrated by Helen Oxenbury (Walker Books)
Funnybones by Allan Ahlberg and illustrated by Janet Ahlberg (Puffin)
Riley Can Be Anything by Davina Hamilton and illustrated by Elena Reinoso (The Ella Riley Group)
Ages 6-11
Diary of a Wimpy Kid: Wrecking Ball audiobook by Jeff Kinney and narrated by Dan Russell (Penguin Audio)
Charlie and the Chocolate Factory by Roald Dahl (Puffin)
Roy of the Rovers: Scouted ebook by Tom Palmer (Rebellion Publishing, currently available for free from the National Literacy Trust's Family Zone)
You Are Awesome: Find Your Confidence and Dare to be Brilliant at (Almost) Anything by Matthew Syed and illustrated by Toby Triumph (Wren & Rook)
The Book of Hopes: Words and Pictures to Comfort, Inspire and Entertain Children in Lockdown ebook collated by Katherine Rundell (Bloomsbury Children's, hosted exclusively on the National Literacy Trust's Family Zone)
Ages 12+
Noughts and Crosses by Malorie Blackman (Penguin)
Stormbreaker (Alex Rider) by Anthony Horowitz (Walker Books)
The Hunger Games by Suzanne Collins (Scholastic)
To learn more about the survey findings follow this link: National Literacy Trust