Homework can be a positive learning experience that gives parents the opportunity to be involved in their children's education, find out what they're learning at school, understand their strengths – and identify where they're having problems.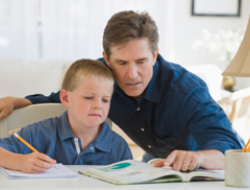 Why can homework be beneficial?
Homework gives you an opportunity to show an interest in their work, while talking to them about it helps them to learn. Homework teaches them about responsibility, organisation and time management; helps them build on what they've learned at school and deal with frustrations and difficulties; and encourages independent learning.
When is the ideal time for them to do their homework?
We might think our children should tackle their homework as soon as they get in from school, so they can enjoy the rest of the evening – but if we bring home some marking or a board report to finish, do we breeze through the front door after a day's work and immediately fire up the laptop? Just as we require a reviving cuppa and half-hour's mindless TV before we start again, so our kids might need a bit of chill time after a day's schooling watching CBBC, listening to music, or jumping on the trampoline.
Plus, it's been a long time since lunch and their energy levels are likely to be low so perhaps they could leave their homework until after tea, or have an energy-boosting snack, such as a milkshake, peanut butter on toast, banana or bowl of cereal if your family eats later.
Get your children's input into when they want to set their homework time. It may be just on certain nights, for 30 minutes or an hour, and you may need to be flexible to accommodate other extra-curricular or family activities, but once you've agreed a plan together, stick with it. If homework time clashes with a favourite TV programme, record it and let them watch it later, or if they plea to go out on a 'homework night'; ask how they are going to rearrange things to get their work done beforehand. It's amazing how soon they'll pull their finger out when they really want something!
Weekend homework sessions may need to be negotiated on a week by week basis, depending on what else is planned for the weekend, but don't let them leave it all until Sunday evening.
Where should they do their homework?
As well as deciding when they do their homework, your children may have preferences about where they work, so discuss this with them. It may be at a desk in their bedroom or the dining room table, but always try to ensure that distractions are kept to a minimum. They can't concentrate properly if the TV's on in the same room or if other family members are trooping in and out.
If they're writing or drawing, make sure they have a flat surface to work on, an upright chair to sit at and a good light source. Neat work simply cannot be produced while lying on a bed or sprawled on a sofa.
They may prefer to be alone or they may like company, either working with friends or siblings, or to sit in the same room as you while you're reading the paper.
During these homework times, you might let younger children watch TV or use the Wii so that it's available to your older children when they've completed their homework – or you could encourage them to do some quieter activities such as drawing or playing with their toys. Whatever suits your household.
How can you support them with homework?
Try talking about what they've been learning over tea or in the car and make sure you listen – it's a great way to help them communicate better.
If they need your guidance, try to be positive and see homework as an opportunity to bond with your son or daughter. Obviously, snuggling up with a younger child on the sofa while they read to you for five minutes may be more appealing than tackling quadratic equations with a moody teenager, but giving your time, support and encouragement shows your children you care.
When they've finished their homework, ask them if they'd like you to look at it. If they choose to involve you, don't start with a negative comment or list of criticisms but find something positive to say – or they won't want to show you again.
If you spot any spelling mistakes or incorrect answers, you could encourage them to check it again. You can give them some pointers, especially if they're tired and getting frustrated, but don't just tell them the right answer – it's their work, not yours, that counts.
If the work's really untidy or they've made a major mistake, encourage them to redo it, explaining why presentation is important.
Hysteria from your kids about homework that's "too hard" requires a firm but patient hand. Sit down with them, look at the question(s), then find out what they understand about the topic, and what they don't. Above all, try to remain calm and positive. Go through each question and praise your son or daughter when they answer correctly, encourage them to expand on an answer if it's partly right, and if they haven't got a clue, help them research in their school books or online – but don't just offer the answer.
Encourage them to break down bigger projects into sections and build on each of those. Again, you can help them trawl the internet for information and supplementary pictures, but let them do the work. And discourage them from simply copying down the information but talk about the key facts, which they should then write in their own words.
If your work commitments don't allow you to help out with homework during the week, make an effort to be on hand at weekends. It's much better for your children if both parents support them with their studies.
If they're really struggling with certain areas or subjects, contact the school and see if their teacher can give them some extra help.
What about non-formal ways of supporting their learning?
Of course, you don't just have to support your child's learning through formal homework set by the school, at a table! There are lots of opportunities to support your child to learn, and you might find some of these ways work better for their learning style, and yours!
On journeys test them on times tables, capital cities or scientific formulas.
Give them the opening line of a story and get them to finish it. You could share it among the family so you each add one line in turn.
Look for ways for them to utilise their maths skills such as calculating multiples round the supermarket, estimating materials for DIY projects or doubling up ingredients for a recipe. And when you're travelling somewhere, let them look at the bus or train timetable – or work out your estimated time of arrival if you're in the car.
Challenge them to a competition on online educational games or revision topics.
On a rainy Sunday afternoon, snuggle down in the lounge with a good book and a bowl of popcorn and get the family to all take turns to read a paragraph or page.
Hold a family quiz night with the children setting some questions for the adults or play games that increase their general knowledge such as Millionaire or Trivial Pursuit, or that heighten their logical and creative thought processes such as Cranium or Pictionary.
Get them involved in writing and designing invitations, posters or cards.
Discuss things that are in the news, whether it's celebrity gossip or world events, find out what they know and chat about their views to help them develop their ideas.
Going on holiday? Involve them in researching destinations, comparing board and prices, flight times, suitable dates, planning a budget etc. If you travel abroad, make an effort to learn and use the language for a few key phrases and words.
Find out what they're studying and plan a family day out to support that subject – to the Science Museum, a Norman castle, the Globe theatre or an unusual rock formation, for example.