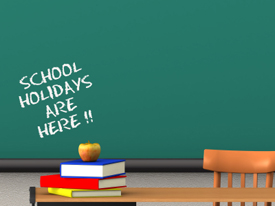 The holidays can be a difficult time for children with autism. The NAS offer some advice
My son spends half the school holidays with me and half of them with his Mum and we always notice more challenging behaviour at this time. What can we do to help him with this?
Practical advice from the National Autistic Society Magazine:
The holidays can be a difficult time for children with autism. With the structured routine of the school day taken away, anxiety levels can increase and behaviour can be more challenging.
The days' activities are more likely to change unexpectedly and this too can increase anxieties. The main things to focus on are adding structure to the holiday, building up a routine, preparing for any changes, and presenting this information in the best way for your son to understand.
You could make an overall calendar for the whole school holidays showing when he is staying with Mum and when with Dad, when certain friends are back from their holidays, when he starts back to school and the key things he will be doing during the holidays. Many people on the autism spectrum are strong visual learners so using pictures on the calendar (either drawings or photos) will help to reinforce the information for him.
Some kind of weekly/daily routine at this time would be helpful – going swimming on a certain day of the week, perhaps, or visiting the shops at a certain time of day. Pin up a visual timetable somewhere prominent so he can refer to it and so know what is expected of him during the day. The daily routine can be built around meal times, bedtime and play times. For play time, you could make cards with pictures of different activities, for example, computer games/DVD, and he could chose which one he'd like to do and then put the relevant picture on his timetable when he'd like to do it.
Visual timetables are also good because, if planned activities do need to change, you can visually show things changing, by replacing one activity with another. Some children with autism have difficulties moving on from one activity to another. 'Now and next' cards can help to reinforce the change in activity, for example, 'now: computer time, next: lunchtime'. You can also provide a countdown to the changing of an activity, perhaps by using a sand timer.
It's also important to explain why he is spending time at both houses. A great way of explaining this could be through a social story, a short description of a particular situation, behaviour or event, which includes information about what to expect in the situation and why. Social stories™ were developed by Carol Gray, and they are really simple for parents to write themselves so they can be tailored for a specific situation.
Carol Gray has written an example of a social story (below) about why parents live in separate homes: Why do some parents live in separate homes? Each child has two parents. Some children have parents who live in the same home. These parents are married. Some children have parents who live in separate homes. These parents are divorced. Mum lives in one home. Dad lives in another home. Mum and dad are divorced.
More information: some local support groups and play schemes run holiday clubs – you can find out details of any schemes near you by calling the NAS autism helpline (0845 070 4004,Mon-fri, 10am 4pm), or looking on our autism services Directory www.autismdirectory.org.uk The NAS autism helpline also has information sheets on writing social stories, using visual supports and understanding behaviour.