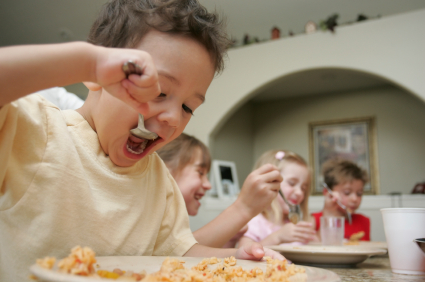 As a dad are you confused as to what to give your child to eat? Are you tempted to spoil the kids by going to fast food restaurants all the time?
As either the main carer or the weekend dad cooking may seem like a real challenge, especially if you are not used to it. Don't worry though, there is no reason for you to rush out and take cooking lessons.
There is no doubt that food home-cooked, from scratch is the best. Often the worst chore isn't the cooking itself, it's trying to decide what to eat every night. If so, a two week rota of favourite convenient meals could be the way to plan things.
Don't worry about taking some shortcuts. Buy in some jars of ready-made sauces, which can quickly transform simple ingredients. Although these have some unnecessary sugars, once in a while they won't hurt and they are better than reaching for the take-away menu.
Even a take-away every now and then isn't a problem. Once a week might be too often, both financially and nutritionally, but how about every month? This makes it a really good treat and something to look forward too.
Try and be time efficient. For instance if you are making pasta with tomato sauce, make double and then use the sauce in a chicken casserole for tomorrow or for the pizza base you are making on Saturday.
Poach some salmon in the oven and have cold in sandwiches or in a pasta salad or make fish cakes or a fish pie.
Cooking does not have to be time consuming or an effort, just try to think ahead a bit. The children will love cooking and may even get involved and be encouraged to experiment.
If you are a person who is organised in the morning think about getting a slow cooker. You can throw everything in first thing and by evening the dinner is cooked. You can even cook double and freeze.
Don't be afraid of spices and herbs. There is nothing worse than bland food. Use mixed herbs, bay leaves, fennels seeds and chuck them in the sauce and simmer. Add black pepper to those roast potatoes and use cumin and coriander when making a curry. Ginger and garlic are good for stir fry which is another very simple meal to prepare.
Remember it is important that you are giving your children a balanced diet. Toddlers typically have low iron intakes and many have a low vitamin A intake. Vitamin A is found in fruit and vegetables and iron is found in primarily red meats. Iron is found in other sources such as lentils, beans, fish, chicken but for to be best absorbed really benefits from being eaten with vitamin C. So the more fruit and vegetables are eaten the better!
About the Author:
Sarah Scotland holds a BSc (Hons) in Nutrition, Exercise and Health. she is an associate member of the Nutrition Society , and also belongs to ASO – Association for the study of obesity, SENSE (self employed nutritionists, support and enlightenment), and Sustain. http://www.wiseaboutfood.co.uk/