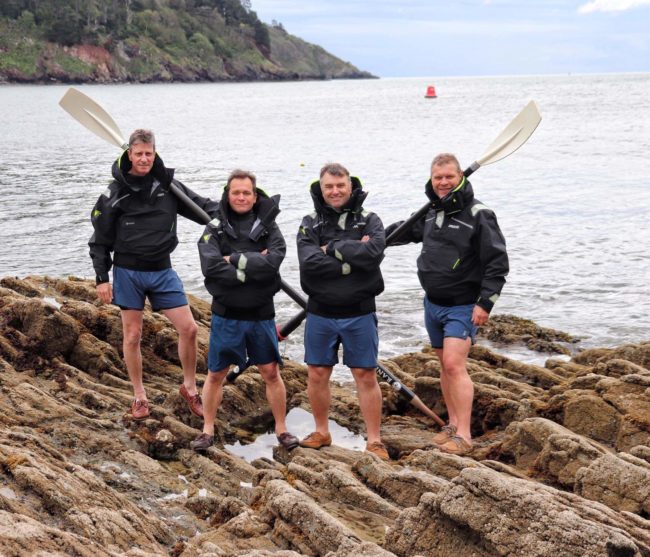 Four dads are taking on the incredible feat of rowing 3,000 miles across the Atlantic to raise funds for premature birth research.
The team have named themselves Elijah's Star, in memory of baby Elijah who was born premature and lived for only 37 days. They hope to raise thousands for Action Medical Research in a bid to improve research and care for premature babies. Currently premature birth is the biggest killer of children under 5.
Taking on the Atlantic
Team member and dad Phil Bigland spoke to us about the challenge the crew face as they attempt to row from the Canary Islands to Antigua.
Phil and his friends have been raising money for the charity for over a decade. This year they decided to focus on raising awareness and funds for premature baby care, having got to know Elijah's family.
During the race the crew will be self-sufficient, battling waves of up to 40 feet in a 28×5 foot boat. They will be tested by rowing and sleeping continuously in 2-hour blocks while coping with sleep deprivation and salt sores.
'This is clearly a physical challenge but also a mental challenge. That part is very hard to train for,' said Phil. 'All of us at some point spent time in the forces, but even with that, we need to prepare ourselves as a team. Working on how we operate together and communicate, and how we resolve conflict. We need to make sure that as four 50 something blokes we are operating at our peak rather than niggling over who made the last cup of tea.'
Training for the challenge of a lifetime
Getting prepared for such a gruelling physical and mental ordeal is a long and time-consuming process. 'There are several things we have to prepare- the boat, the physical, and also the mental side,' explained Phil. 'We are spending a lot of time out riding on the boat and checking all the equipment on board for safety. We need to know how to keep ourselves safe. We are checking everything from which jacket we are going to wear in a storm to deciding whether we row with shoes on.'
They also must learn to row effectively and gain strength to avoid injury. 'Technique is all about efficiency and injury prevention. So for each stroke bringing the maximum power down, but also doing it in a way that means you don't injure yourself. The body isn't used to moving in certain directions constantly,' said Phil. 'We are also building endurance. Weight training, rowing both in the boat and off. We are spending a lot of time doing flexibility training- yoga and pilates, so that our muscles don't get cramped up.'
The team are completing 6 gym sessions a week plus 4 flexibility sessions and are spending every weekend rowing in the boat off the coast of Devon, staying out overnight in a bid to prepare as much as possible.
Mentally prepared
On top of the physical challenges, the team will also be facing danger every day at sea. 'If we were to get into trouble, in the middle of the Atlantic, the nearest people will be on the international space station 250 miles above us,' said Phil.  
The crew know that they are going to be met with storms. They are making contingency plans for every possible eventuality. 'Running into bad weather is an inevitability, and the waves in the storms can be 40 feet tall. We will get turned over. That's going to happen. Part of that mental preparation is what do we do in that situation. We have a life raft, or we might need to get in the cabin and sit tight'.
An important cause
As well as donating to the team's Just Giving site, supporters can also add the name of premature-born children to the boat.
The crew are hoping to raise the money for Action Medical Research. The charity focuses on research. They found taking folic acid prevents spina bifida, and developed ultrasound scans, among many other breakthroughs.
They are aiming to raise £1 million to fund further research, in a bid to save the 1,000 babies who die in the UK every year after premature births.
Good luck from all of us at Dad.info. Keep us posted!