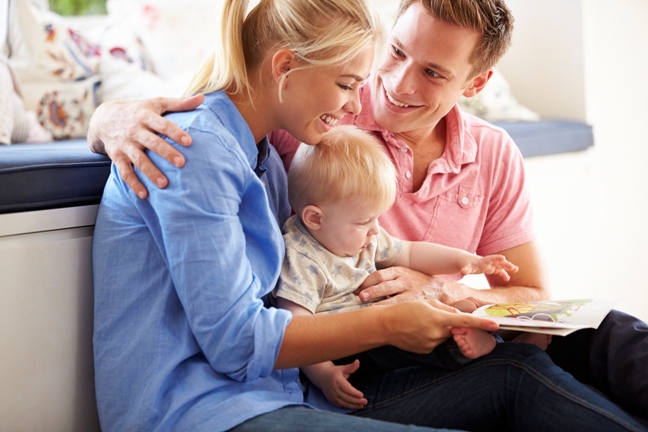 You've already coped with the first – and biggest – event in your child's life: their birth. You've read up on the first few months and the early years, and you've child proofed your home. But in no time at all you'll be bouncing their kids, your grandchildren, on your knee. There are plenty of milestones on the way, so what do you need to plan ahead for?
On the whole, being a dad is a pretty unpredictable business. That's one of the things that make it tricky. And fun. Some events, however, you can rely on, and being able to plan for what lies ahead means you'll be in a better position, when the time comes, to give a helping hand over those hurdles…
Nursery
When it comes to choosing a nursery, don't blind yourself with league tables, statistics and performance indicators; just visit some. Do they feel warm, bright, stimulating? Are the kids active and well supervised? Trust your gut instinct, something you'll be doing lots of over the coming years.
Childcare: what are the options?Choosing a nursery: what you need to know
Starting school
Try to make sure that your child's first day at school isn't the first time they've actually been there.
Visit the school with your child in advance. Let them look around and get to know the place, sit in on a few lessons – the school will be glad to be dealing with a parent who cares enough to make the effort.
Talk to other parents if you want an honest view of the school, but don't concentrate on educational stuff, ask them if their child is happy and looks forward to going to school each day.
As an added bonus, the regular appearance of dad in the playground may well deter would-be bullies.
Teach key skills before your toddler goes to school
Secondary school
Bear in mind that, while there are some excellent schools and some (though actually very few) poor schools, most sit firmly in the middle, doing a difficult job well. Again, ask other parents, and the kids themselves.
There's a direct link between the interest you show at home and how well your child will do at school.
Give you child your support and show interest at home: a house full of books, membership of the library and easy access to the wealth of information on the internet – these are the foundation of a good education.
School exams
Exams are an important fact of life but they don't have to be scary! You can support your child by showing confidence in them and taking an interest in their exams.
First of all, make sure you know what each exam entails. What percentage is down to coursework? When does it have to be completed by?
As for revision, encourage them to find the time and space to study without feeling under pressure. Revising under duress is little better than not at all, so you may like to incentivise revision by promising a small reward if they do well.
If they don't do well, resist the temptation to act like it's the end of the world. It isn't, it's just a temporary set-back.
Supporting my child's education: what can I do?
The facts of life
Chances are, "ask your mother" isn't going to cut it. This has to be the top of most parents' list of conversations they dread, and there is bound to be awkwardness and perhaps embarrassment on both sides.
Stick to the facts, and bear in mind that they don't need to know absolutely all the ins and outs yet. After all, some things are worth discovering for yourself. Anyway, they probably know more than you give them credit for…
The most important thing you can do is reassure them that sex is good, but you should also stress the responsibilities.
First love
OK, so you know it won't last, but as far as your kids are concerned, this is the one. You won't be thanked for interfering, giving advice, and certainly not for the, "I told you so", that will inevitably follow the breakdown of their first love affair.
Just be there to offer support, and be prepared to pick up the pieces!
And remember how you behaved when you felt those first stirrings of love…and how you would have done anything to avoid speaking about them with your parents!
Getting behind the wheel
Learning to drive is as much a rite of passage as the first pint, first love and first fumble behind the bike sheds, but letting them take the wheel of the family motor may excite and terrify you in equal measure.
Be prepared for a bumpy ride and be as supportive as possible.
It's probably decades since you passed your test, but think back to your first driving lessons. Yes, you were that bad once too.
If you're helping them learn to drive, don't forget to check you're covered on your insurance and to get a copy of the latest Highway Code.
Getting to University
If Higher Education is something that your child wants to pursue, there are plenty of things you can do to support them. For a start, you can help to explore the vast range of courses that they may want to choose from, and help them to narrow down their preferred universities.
Take time out to visit university open days with them and show interest in every aspect, from course content to social life. Yes, of course university is about the education, but gaining confidence and developing social skills is all part of the student experience.
Every expert in the world will tell you to put thousands away to fund your child through university. In truth, any amount, no matter how small, will come in handy.
Could you afford to have your Child Benefit paid into a savings account? If not, the occasional contribution here and there towards plates, cutlery, a kettle, supermarket vouchers and so on will always be gratefully received.
Options after school: helping your child decideUniversity: getting in
Leaving home
When they do finally move out, perhaps the most valuable thing you can give them is the knowledge that, should they need it, they'll (probably) always have a home back with you.
In practical terms, as with a child going away to university, the key thing is that every little helps; small bits of household gear, any cash you can spare, it all comes in handy.
Their career
If they ask you for advice, I'd say tell them not to do it for the money. Well, all right, not just for the money.
It's tempting, after scrimping through uni or training, to go for the biggest salary on offer, but the best you can give them is to point out that they may be doing the job they choose every day, for several decades, and it could be something they'll actually enjoy.
Here comes the bride…
At some point, the child you nursed and changed and bathed and fed is going to have a family of their own, and you'll be welcoming his partner and new relations into your fold.
Weddings can be wonderful occasions but they are also often fraught with tension. Fortunately, there are all manner of magazines, websites and other sources of information available to help you through this uncharted territory, and you're probably relieved that it's all some way off.
So, the best advice we can give at the moment is to relax, let it all wash over you – and get the chequebook ready!
First child
Your first reaction to the news that you're going to be a grandparent will be, "but I'm too young!"
Then, of course, you will point the way to Dad.Info, or other sites like Family Lives, Mumsnet, Bounty or Netmums. Whatever you do, resist the temptation to interfere. Yes, they'll do things differently and yes, they'll make mistakes, but then, so did you.
Be there to offer advice when asked, basing it honestly on what you did or didn't do, and pop a few quid in a savings account each week for when your grandchild needs it.