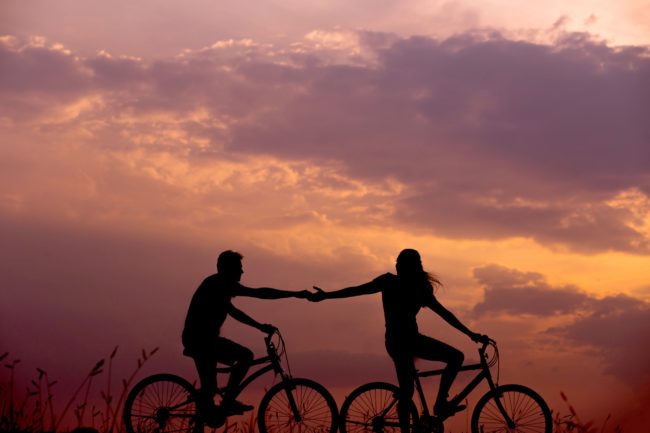 To build a healthier relationship, it can help to consider the dynamics that take place between you. If your partner is the type that would prefer your undivided attention over a bottle of champagne and rose petals then understanding each others 'love language'- ways of expressing love- can be a helpful tool for a stronger relationship.
What are love languages?
Some of us love a little romance, and others are content being snuggled up together with a takeaway while eating pyjamas. Understanding each others 'love language'- i.e. how you both show your love for each other- can lead to a deeper connection.
What are the 5 love language types?
The term 'love language' was first coined in the early 90's by marriage counsellor Dr Gary Chapman. There are 5 types of love language- which one is yours?
Words of affirmation
This language type uses lots of verbal expressions of love, so if you need to hear 'I love you,' this is describing you! You'll also enjoy receiving encouragement from your partner, and want to know you're appreciated.
You may also recognise this as the love language favoured by your partner. If so, make sure you're regularly expressing your love for them. Make time to give them compliments too and be encouraging when they're going through difficulties.
Quality time
If you're less frequently saying 'I love you' but often give your partner your full attention, quality time will be your love language. However you spend your uninterrupted time together, you enjoy connecting with your partner otherwise you feel distant. You might be the type to enjoy hikes together through the countryside, or talking together over dinner. Whatever your preference, you express love through time spent together.
If you recognise this as the 'love language' of your partner, make sure you put your phone to one side to spend time with them, and arrange activities to do together.
Physical touch
Are you a touchy-feely person who enjoys lots of hugs? If so then physical touch is likely to be your love language, and for you actions speak louder than words.
If your partner is big on cuddles and physical affection as the way they express love, then make sure you hold hands and give them kisses.
Preferring physical touch as a love language can also involve sex. It can be difficult to find the opportunity for regular sex amongst the hubbub of kids, work and daily responsibilities. However, connecting through sex as an act of physical touch can make your relationship stronger.
Acts of service
Are you the type that will make your partner some food when they come home from work? Acts of service are another love language. If you do little things to make your other half's life easier, then this love language describes you.
If you recognise this trait in your partner, then try to incorporate little helpful acts into your life together- maybe run them a bubble bath for when they get back after a long day, or take a household chore off their hands. There are many ways to use this love language to make them feel cared for: perhaps organise the weekly food shop, pick them up from the station, or do the laundry while they're at work.
Receiving gifts
Do you love it when someone expresses love by going the extra mile to get you a gift? If so then receiving gifts may be your primary love language. You might be the type of person who goes to great lengths to arrange special surprises for your partner, and feel dismayed if they'd have preferred an evening in front of Love Island with a kebab!
Gifts don't have to just be for special occasions. If your partner's love language is gifts then you can communicate love to them with little regular surprises, such as bringing home their favourite wine on a Friday night, or arranging a day out that has special meaning to them. Even taking over making dinner can be a gift, and a way to make them feel cherished.
Expressing love through various love languages
Chances are that more than one of the above love languages resonate with you. It's normal to use a variety of ways to express heartfelt commitment to your partner- perhaps you're both keen on physical touch and thoughtful gifts.
The key is to identify the ways that both you and your partner communicate love to each other, and incorporate what is important to them- whether that might be through thoughtful gestures, quality time, holding hands while in Tesco's, or watching what she wants rather than Sky Sports!
Further reading on relationships
She's Pregnant and Seems to Hate Me!
15 Ways to Fix Your Relationship