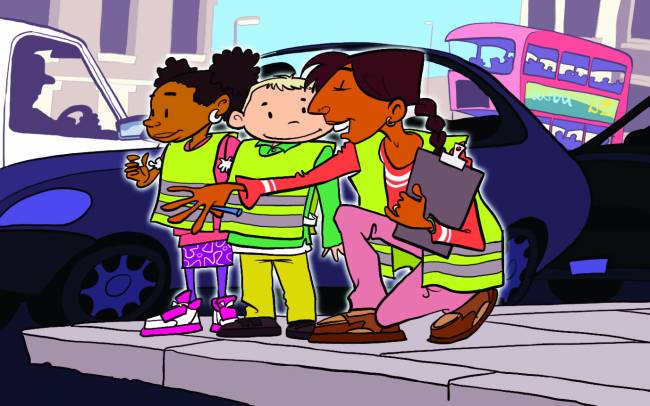 I am fortunate enough to work in a job where I create campaigns and initiatives for children. On the good days, it's great. And on the bad days? Well, we all have those don't we?!!
One of the areas we've done a lot of work in is road safety education for young people. That's everyone from a toddler tottering along the pavement to a teenager heading out on the road as they learn to drive.
The first question we always ask is what age is the young person we are trying to talk to? Because a six year old boy is very different to an 11 year old girl. They have different abilities, different interests, even different physical points of view.
What do I mean by that last one? Well, think about crossing a road between parked cars. Now, obviously, it's much better to use a proper crossing but that's not always possible. So, bear with me on the parked cars.
You go between the parked cars. You look right, you look left, you look right again. All clear? Then you are good to go, making your way carefully across the road, yes? And that probably works for an 11 year old.
But what if you are six or seven? What can you see when you look right and left? The answer is… car bumpers. And that's because a young child isn't tall enough to see over the cars to check the traffic.
Next time you are out with your little one, drop to your knees before crossing the road and get down to their level. I guarantee you will be shocked by how your perspective has changed and how little you can see.
This exercise of going down on one's knees to experience exactly what it is a child can see is just one important aspect of a road safety scheme called Kerbcraft.
Getting down to a child's level sounds so obvious but road safety wasn't taught this way for years. Kerbcraft has now helped thousands of children learn how to walk safely near roads.
And that got me thinking. How often do we take the time to see the world from a child's perspective? How often do we place ourselves in their small shoes?
As adults, we have accumulated so much everyday knowledge and experience over the years, we forget that we don't innately know things – we had to learn them.
We forget all the times we got it wrong. The misunderstandings, the bumps, the knocks.
But we also forget the wide-eyed brilliance of experiencing something for the first time: cooking a meal on your own from scratch (OK, beans on toast but so what?!), roller skating on your own for the first time, walking into a floodlit stadium for your first evening kick-off, and so many more magical moments.
I sometimes find myself longing for the days when doing something new was an everyday occurrence. When I wasn't so old, so know-it-all, so – to be frank – jaundiced.
And then I look at my wonderful, excitable, naive children and realise I don't have to be jaded. From now on, this is one old dog who's determined to copy his kids – and learn some new tricks.