DAD.info's Simon Harris checks out the latest educational app, Dino Tales Jr, with his daughter and dino-fan, Mary…
Dino Tales Jr combines a colourful, exploratory world with a lot of fun activities to encourage your child's reading, listening and problem-solving skills, and allows your two to four-year-olds to join in the fun of the multi-award winning, chart-topping game for older kids, Dino Tales.
Your child can navigate their dino around a land full of palm trees, oasis and adventures, as creatures cross their path and fly overhead. A story book opens up a selection of tales which are read to your little explorer – with the words highlighted so they can read along too. There's jigsaw corner, a dino-petting area, a place to decorate-your-dino and lots more. They can even control their own band of musical dinos (maybe get the ear plugs ready for that bit, Dads).
But the pièce de résistance is hiding inside the volcano… Kids can enter this area to record their own story as the images unfold. It's a great feature and Mary quickly grasped the concept. Speaking over the pictures to record a unique story which can then be played back is a brilliant idea. Mary grew more confident, articulate and imaginative with every recording: she loved listening back to herself and was really proud of her own Dino Tales.
Note to app makers, Kuato – please update the app so we can save these stories. They disappear once they've been played back which was a real shame.
Dino Tales Jr is a great app for keeping your little ones amused and getting their creative juices flowing. It's colourful, fun and very addictive – both you and the kids will be hooked!
Dino Tales Jr is available exclusively on the App Store for supported iPad and iPhone devices, £1.49. Find out more at KuatoStudios.com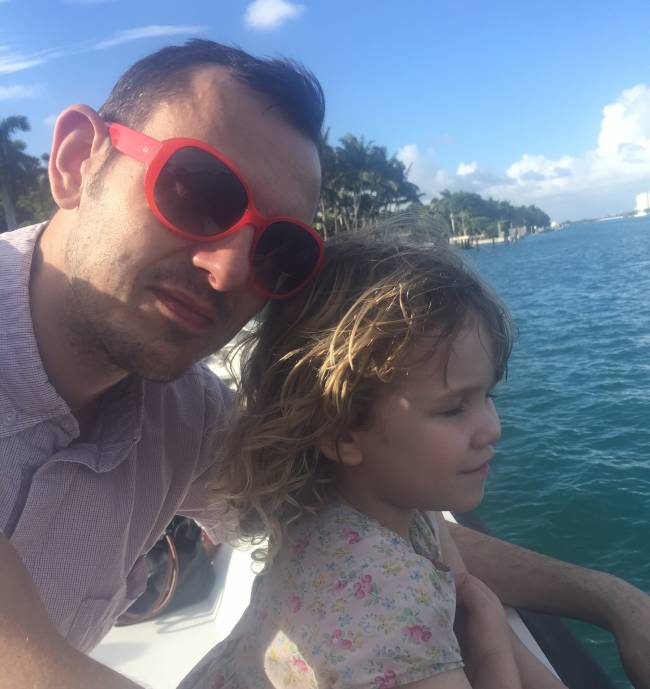 Simon Harris is a father and director of Swyhpe, a creative motion agency based in London.