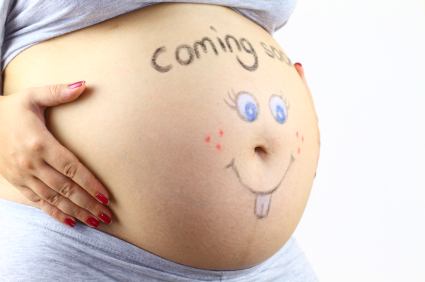 Now Adlai is almost two years old he is pretty much self-sufficient. So to insure that we don't become surplus to requirements we have decided to have another baby. Yep, we figured that the chaos is calming down and we are beginning to get our lives back under some sort of control. Time to have another baby. Who needs to sleep through the night anyway… right?
When we decided that we were 'ready' to start 'trying', we thought that maybe it would take a while. We were wrong. It happened quickly. Very quickly. There wasn't much drama there, which I can only be thankful for.
So now Faith is nearly halfway down the pregnancy road. We had to wait a while to go public with the news to ensure that far-flung family members on both sides of the Atlantic found out before facebook told everybody. To be honest it's meant that we've missed out on some prime blogging material. There was the morning sickness, and the first scan, the peeing on a stick and the excited in-laws, but there is still plenty to come I'm sure.
So the baby is due to arrive at the end of March 2013. That seems like a long way away but I'm sure it will come around quickly. We've tried to explain it all to Adlai. I'm not sure that he has fully grasped the concept. He does enjoy speaking to Faith's belly button, but he also enjoys speaking to his own. He'll figure it out soon enough and come March a lovely kind of chaos will be resumed.