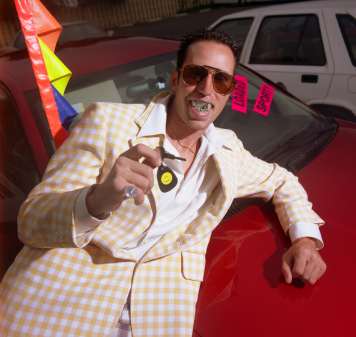 I think I may have mentioned our car once or twice, but let me remind you: it is a 1997 Rover 100 (also known as a Metro). She is small, "aqua blue
When Faith and I found out we were going to have a baby two years ago, it was a bit of a shock. We had just moved back to England from America, and we had no jobs, no house, and no car. So, when we realized we were going to be parents, we felt the urgent need to sort out at least one of these problems. We bought our little blue Metro the day after we took the pregnancy test.
She's been a good car for us – loyal, dependable, and not too tempting to car thieves – but since we had Adlai, we've been thinking it's probably time to upgrade to something a little safer and more practical. Not to mention something that will hold all the baby paraphernalia we have to carry with us everywhere we go. You can fit a surprising amount of stuff into our Metro, but Faith tells me she's getting tired of hugging the travel cot every time we drive to my parents' house.
So, we've saved our pennies and have been on the hunt for a newer, safer car for the past few weeks. It's been a real adventure – and not one I've enjoyed, to be honest. I forgot what a hassle it is trying to buy a car. We liked the first one we looked at, but we didn't move fast enough and it sold before we could make a decision. Later, a slimy car salesman fitting all the stereotypes refused to let me take one for a test drive until I'd told him I'd buy it. And this weekend, we drove half an hour to look at a car I was sure was "The One