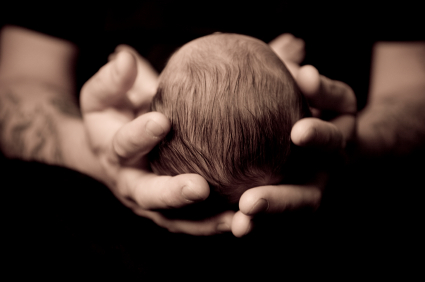 Our babysitter arrived just in time. We left a puddle on our bedroom floor and, with Faith still dripping, headed for the hospital. I decided not to focus on the potential stain on my car seat and just drive as quickly and smoothly as possible. I was pretty sure any concerns I could have voiced about our upholstery would not be well received.
The delivery suite is a place outside of time, and walking in is a strangely surreal experience. Everything starts to feel like a dream sequence. The midwives float around with an angelic calm.
I was expecting to bed in – I'd made sure to bring a large quantity of snacks in preparation for a long labour – but then they measured Faith and reported she was already 6cm dilated. Pretty impressive. This birth was ticking along nicely – so nicely that Faith decided to get in the pool. About an hour after arriving at the hospital that baby was ready to come out!
We didn't realise it, but during a pool birth the midwife is very little more than a keen observer. So much so that on the final push Faith just reached down and picked up our son. Lots of tears. Textbook. So different to the birth of Adlai, which was stressful and frantic, this was peaceful. Beautiful even. We had all the pleasantries. And you'll be pleased to know I cut the cord. That's a weird thing. Squidgy.
Afterward, there was blood everywhere. The room looked like a scene out of CSI. But all was well in our little world. My second son had arrived safely.
At 11:39pm on 25th march we welcomed Koa David and became a family of four.