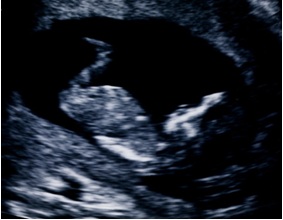 The waiting room at the maternity scan unit is a strange place. Everybody is carrying green notes. Except us – we forgot ours. The women are carrying bumps of varying sizes and the men all seem kind of awkward. If you catch someone's eye you smile, but you don't hold your stare for long. Some people bring their kids – that never goes too well.
At least one child is usually crying. The parents expecting their first baby try to look like they are okay with the screaming, presumably trying to convince themselves that if they can do that they will be excellent parents.
Once in the scan room, the sonographer is not as excited about the events as you'd expect. I suppose she does it all day. Looking at an unborn baby for her is kind of like sending an email to the rest of us. She goes through your unborn baby's organs and tells you that they are 'normal'. It's the best kind of 'normal' you've ever heard. 'Normal' will do just fine. Then in a monotone voice she tells you news that will shape the rest of your life…
'It's a boy.'
You have no time to react.
'Great!'
I mean it's great either way. Your wife looks at you and says, 'Two boys.'
'Great!' you reply. It seems that at this stage your vocabulary range takes a bit of a hit.
The sonographer seems unaware that this news has any emotional impact and continues to say 'normal'. She eventually asks you a question.
'Do you want a photo?'
To which you reply: 'Oh…cack. I don't have any money'.
Fortunately your wife remembers that there is a cash machine on the ground floor (you're on the 3rd floor). Being the athletic man you are, you whip down to get money out, whip back up and pay the good lady at reception who is displeased that you've handed her a 10 pound note and was hoping for something smaller. You apologise, collect the photo and your wife, and head back down the stairs at a more sedate pace.
You leave the strange place and enter back into the real world. You drop your wife at home and go back to work. You suddenly realize that you are going to be a dad… again. And suddenly everything makes a bit more sense, the world is in better perspective and somehow a better place to be.