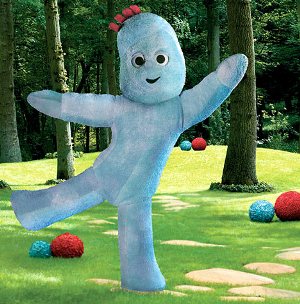 I wonder what attracts you to a career in children's television. Or to be the guy inside Igglepiggle's costume. Do you think you have to work your way up? Maybe start off as Harry the Hornet for the Watford football team or Millie the Cow for MK Dons. Is it the sort of thing you can ask your careers advisor at school about? I wonder what the national careers service would make of it.
On one level I see how the job would be satisfying. You make people laugh, kids want to be your friend, if you're a mascot you get to travel and (presumably) watch football matches for free. But dressing up like a cow must be awfully hot, you'll probably never win an oscar and I just don't know how much street credibility it carries. Although I think you'd be the cool Dad…until your kid reaches secondary school anyway. At that point I think it could get un-cool pretty quick.
I suppose the Igglepiggle guy looks down on the team mascot guys. The Igglepiggle guy must be the Johnny Depp of the professional 'dressing up as an animal-like creature' industry. I wonder if they have a union…and if at the union meetings they all wear their costumes. I know they have team mascot races. One year I remember Harry (the Hornet) was the fastest mascot in the professional football world. It was the only title Watford won that year…
I wonder who would win a race between Igglepiggle and Harry. I would say Harry because he's more sporty, but Igglepiggle keeps pretty fit with all his jumping and dancing in that night garden of his. I guess it would be close.
Well I'm off to find the nearest careers adviser. See how I can get into this mascot game. I've always been pretty quick. I reckon I'd give Harry a good run for his money.