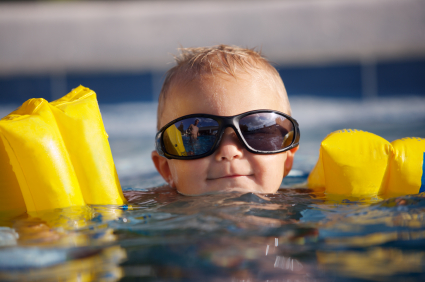 7:36am Sunday.
I was not to be found in my bed, I wasn't relaxing reading the Sunday paper, I wasn't even downstairs watching cartoons.
Nope… I was at the local swimming pool with my 2 year old son.
Swimming has become an obsession.
Of course Adlai does less swimming and more kicking and splashing, but whatever you call it though, he loves it.
It's a real adventure and it's not just the swimming. It's the weird blue overshoes. The (don't over think it) dirty changing room. It's the old guy that spends an unnecessarily long time naked when getting his trunks on. It's the echoing sound that rattles around the pool. It's the floats that have bite marks. It's the warm patches in the water.
Not altogether surprising at that time on a Sunday morning we had the (baby) pool to ourselves. We made the absolute most of the situation with Adlai splashing and jumping from float to float. An hour went by incredibly quickly and before we knew it we were braving the changing room once more.
Literally as soon as we walked out of the door Adlai asks "when can we go swimming"… Seriously he's obsessed. That night he had a bath and took the opportunity to demonstrate his best kicking to his baby brother who actually seemed very impressed. The Sunday morning swim is the new routine. Goodbye relaxation. See you in 15 years.