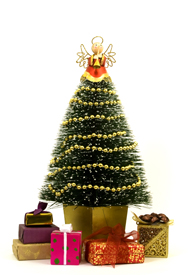 Being married to an American means making some compromises when it comes to family traditions and celebrating holidays. On the upside, we get Thanksgiving dinner one month before Christmas dinner. It's a good warm-up to Christmas dinner, but different enough (with its sweet potatoes topped with brown sugar and pecans, and pumpkin pie) to be its own great thing.
In true American style, Faith likes to start Christmas celebrations as soon as Thanksgiving is over. Her Nat King Cole Christmas cd came out the day after Thanksgiving, and yesterday, on the third of December, she forced me to buy our Christmas tree. I think it's a bit early. Adlai, however, seems to be embracing his American half and is taking his mother's side. Last night they decorated the tree, and today she cracked open the mince pies (albeit a British Christmas delicacy).
In keeping with our early Christmas onset, Adlai has also forced us to watch The Polar Express about 300 times in the last week. I have tried to tempt him with Cars, Cars 2, and whatever happens to be on CBeebies at any given moment, but there is something about the combination of Father Christmas (or "Claus", as Adlai calls him – another of Faith's influences) and a choo choo train that is irresistible to a two-year-old. If only there were dinosaurs involved – that would complete the trifecta of things Adlai can't withstand.
I have learned to choose my battles when it comes to these cultural differences between Faith and me, and I'm afraid this is one I'm going to have to let go. To be honest, it's not all bad. I may be tired of Nat King Cole in a week or so, but I'm not complaining about the daily appearance of Christmas cookies.