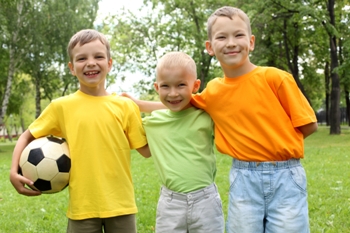 At 11pm On Saturday night I along with 15 million other Englishmen began the roller coaster ride that is supporting our country in another World Cup campaign.
Many of my earliest memories revolve around either playing or watching football; usually with my brother and Dad. And when it came to England we got the kits, collected the stickers, obsessed over stadiums and statistics. To be honest very little has changed as I've grown up. So this weekend my brother and sister in law along with my family congregated at my parents' house for a festival of football.
This year we bought Adlai his first England kit (not the official one – that's crazy expensive) and he loves it. He's reluctant to take it off. Ever. My brother and I were much the same and there are still plenty of kits kicking around at my parent's house. Including the complete kit from Euro '88. There was enough for everyone.
Now Adlai and Koa demonstrated their support throughout the day but were understandably unable to stay up to the Italy game. But the rest of us went through the 90mins of agony. And agony it was but also brilliantly exciting and fun. I can't wait for the earlier kick offs so Adlai and Koa can begin to enjoy the agony of being a England football fan. Their silver lining is that they are half American.
The views expressed in this blog are solely those of the blogger and do not necessarily represent the views of Dad.info.