He's best known for playing 'hardman with a heart' Mike in Breaking Bad, but actor Jonathan Banks revealed his softer side in his recent film, Watercolor Postcards. Here, the father of four talks to DAD.info about values, childhood and his joy at reprising the role of Mike for Better Call Saul…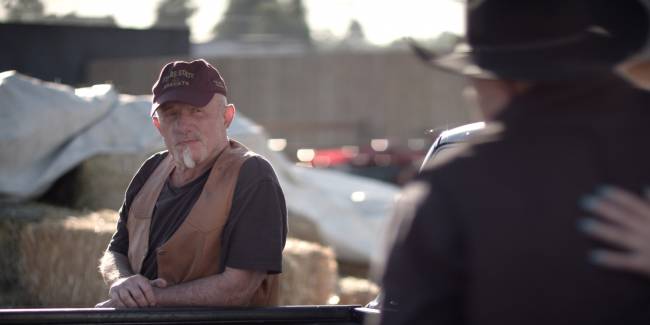 Watercolor Postcards is a very family friendly film in comparison to your recent TV work. Was that a nice change for you as an actor?
I really enjoyed working with Conrad and John McGinley. Conrad Goode (screenwriter and co-star) is one of my dearest friends in the world, so just for that alone it was a joy to do it. Do I enjoy playing the old, worn out, wise bartender? Yeah, it was fun.
In the film, your character values people over things and that's a message that people seem to be coming around to, being less selfish and materialistic. Have you noticed that shift in attitude?
That's a good question… I was raised by a single mother who, if there was a flower trying to raise its head up through the sidewalk, always pointed it out to me. And I learnt from her to take joy from the simple things and appreciate how lucky we are. If you have 10 fine fingers and 10 fine toes, you'd better be grateful.
How much of your own experience of fatherhood have you brought to this role and your other roles?
I'm a father of four and I would imagine at this stage there is a lot of instinct involved just from life lived that transfers itself. You know, you try to be kind. You try to be kind to a child. I don't know that I really think about it too much.
A lot of your characters are paternal and have a wisdom you impart on those around you, so maybe that experience you have as a father comes across unintentionally?
I don't want to be condescending in whatever wisdom I put forth, but hopefully you live by example.
Your Watercolor Postcards character Ledball has similarities with your other most famous character Mike, particularly their sense of responsibility to these young children. How much does your family drive you in your career?
My mother started out life as a housekeeper at 15 years old, totally on her own, and she retired as a college professor. She did it entirely by herself, so she was my hero. Somebody who, again by example, fought till the day she died. She never, ever, ever gave up, and she was a good woman.
Do you empathise with characters like Mike, not on a criminal level, but in terms of making sacrifices to protect the ones you love?
I really like Mike. I like Mike a lot. I feel bad for Mike and Mike doesn't feel sorry for himself. He is deeply flawed but at the centre of it, he has his own standards and his own morals, but does he ever think he'll be forgiven? No. Never for what he's done, Mike doesn't think that way.
What is your proudest moment with Breaking Bad?
The Smithsonian's National Museum of Ancient History, one of our wonderful, wonderful museums in Washington DC, amazingly has a Breaking Bad exhibit. We have the hazmat suits, some crystal meth and a whole display about the show. The nickname for The Smithsonian is 'The Nation's Attic', so we're in there with all these icons of American Culture, like I Love Lucy. I'm just thrilled because I grew up in Washington.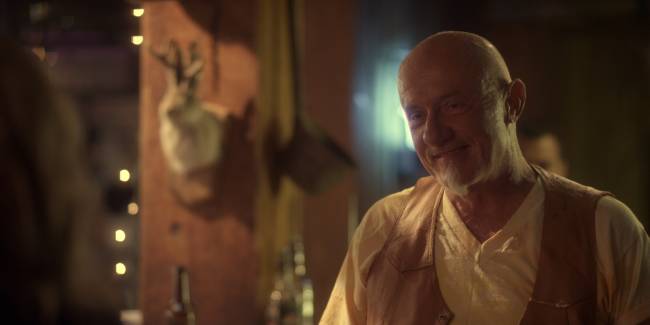 Anything you can tell about the upcoming Better Call Saul series, which hits our screens in 2016?
I can't tell you anything, except that you're gonna learn more about Saul, and you're gonna learn more about Mike!
What do the Banks family do for the holidays?
My wife is from Spain, so when she first came here 30 years ago she had no idea what Thanksgiving was, but now she makes the best turkey stuffing. Then on Christmas Eve we have a Spanish Christmas and the table groans. It's just magnificent. All the kids come home, boyfriends, husbands, whatever. They all come home and there are a lot of people in my house over Christmas, it's great.
With Breaking Bad you've experienced a second coming as an actor, was that a nice surprise?
I wanted to go back and do Better Call Saul because Mike's story had not been completely told. I just got nominated for an Emmy Award for Better Call Saul for Best Supporting Actor, and I got to go back and reveal how Mike lost his soul and the terrible things that have happened to him, so I was thrilled to reprise that character.
It must be wonderful to still be doing work you love?
I'm lucky. I'm wildly lucky.
Watercolor Postcards is out now on DVD, courtesy of Simply Media.
Words: Karen Anne Overton.