This week (14th-20th May) is Dementia Awareness Week. Set to be the 21st-century's biggest killer, someone develops dementia every three minutes, and there is currently no cure. The Alzheimer's Society new ambassador, comedian David Baddiel, talks to DAD.info about his own personal experience of the condition…
Your documentary The Trouble With Dad aired on Channel Four earlier this year, exploring the subject of your father Colin's dementia, and the impact his illness was having on your family. Why did you want to tell this story?
Because I think dementia is often seen in a very narrow way. People talk about it or represent it on TV and film with people sitting in bath chairs, staring silently at the wall, but that isn't my experience of dementia at all. My dad Colin has Pick's disease, or frontal lobe dementia, which made him become a much bigger, "ballooned" version of the bloke he's always been – a very sweary, bantery, cumudgeonly, p***-taking, rude man. We need to change the story.
So does dementia affect everybody differently?
Yes. It's not just this thing which envelops people and they disappear behind a blanket or into a black hole – everyone will experience different symptoms, with each one being just as difficult to cope with in its own way.
Was there any backlash about filming your dad and putting him in front of the camera, especially as he wasn't able to give his consent?
I expected there to be, but the overwhelming response has been universally positive. I think people who have a parent with dementia often feel very alone, and what the film was trying to say, is that others are going though this too, and look at how this family is dealing with it. As a society, we need to talk about dementia, we can't be silent and squirrel sufferers away from the public – I think that would be wrong.
Your two brothers are also in the film – does having siblings make it easier to cope with an illness like dementia?
I think it does make a difference if there are other people to help look after a relative with dementia. We weighed up the options and decided we didn't want Dad to go into a care home – he would have probably punched himself out of it for a start! – so he's still in his own house and he has a team of carers that take turns living with him for two or three weeks at a time. Me and my older brother organise and pay for that care, but my brother is far better at it than me. Things change all the time depending on the stage of the condition, so there's a lot to manage. We both go over to see Dad once a week and he comes over for dinner sometimes too.
What sort of challenges do carers face if they're looking after someone with dementia?
It depends on each individual case, but generally I think families find it difficult financially, it's also confusing knowing which type of care is needed, and obviously the social care aspect is all over the place because it often seems to be dependent on where you live. You can spend ages on the phone trying to get through to people if things go wrong – finding the right care is a long, arduous process, but if you're going to have any kind of life with your ageing relative, you have to put time and effort into it.
How has your dad's illness affected your relationship with him?
Dementia made my dad become incredibly antisocial and aggressive. He went through a long phase of making inappropriate comments, swearing and even spitting at people. He's calmed down quite a bit now, but that also presents a new challenge, because he's withdrawn and he won't speak: he's absent. As his son, it's hard to know which is preferable, because I actually feel that my dad is more 'there' when he's abusing me, so in a way, I'd rather have that than him being completely silent.
Did filming your dad's journey bring you closer?
In a way. There's a moment in the film where the director asks me if my dad had ever told me that he loves me. I joked, 'Of course not – because he doesn't!' When the interviewer relayed what I'd said to my dad, he immediately replied, "That's b******s!" My dad would never have said he loved me, but him swearing and saying it's not true is as close as he would get, which is kind of beautiful, I think.
Has your father's illness made you more worried about getting dementia yourself in the future?
Yes, I think it's natural to worry about it more if you have a parent who has been affected by it, but I guess you just have to hope that there will be improvements in medicine by the time you get there. Sadly, I haven't come across anything scientifically proven to help. There's definitely more awareness about the illness now, but there's also an awful lot of research and pseudo-scientific research claiming to have found a cure, but to date nothing has been proved. There may be advancements in genetic engineering that may possibly help one day, but as ever with those advancements, they only ever apply to mice! Scientists seem to be able to cure mice of virtually anything, but can't always make it work for humans.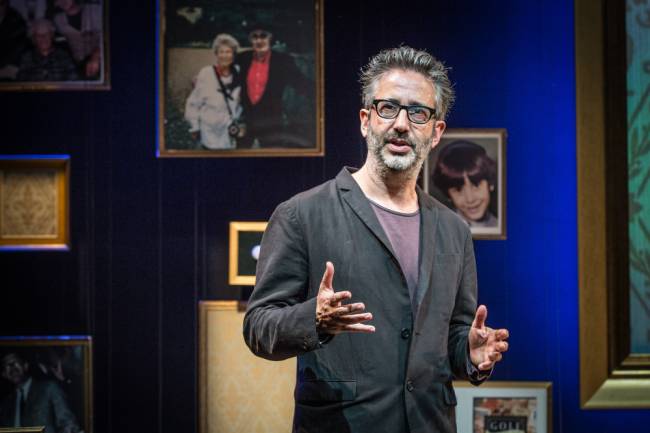 You talk about your dad's illness again in your live show, My Family: Not The Sitcom, plus the long-term affair your mother had before she passed away. Is there anything you think shouldn't be joked about?
No, I don't think anything should be out of bounds with regards to comedy. I don't mean you can't make a joke that isn't acceptable – of course you can. But the joke is the point – not the subject matter. You can make a joke that is true and real and makes people feel less alone, and you can do that about anything, like race, death or the Holocaust. It's how you tell the joke, not what it's about, that's important. There's always so much outrage about everything on social media these days, but the ability to laugh and cry about difficult situations often gets us through, and that message is key to what I'm trying to do with the show.
So do you think your mum would have been happy with you doing a stand-up comedy show that jokes about her being unfaithful to your dad?
Yes, I think she would have quite liked me to do it. She was having an affair with a golfing memorabilia salesman and she was quite proud of it – she thought it made her appear glamorous and wanted to tell everyone about it. A lot of people come to the show thinking it's going to be a very heavy and serious look at dementia, but it's mainly hilarious stories about my mum doing crazy things because she became obsessed with golf, and how that impacted on our family.
How have you managed to be so accepting of your mum's affair – lots of kids would really struggle with that?
Because despite how wild and irresponsible my mum was, it made me who I am now, and I'm happy with who I am. The show tackles the idea of 'maleness' and trying not to be judgemental, and it's really about the liberation of a 50-year-old man who is able to speak freely about his mother's sexuality and celebrate that. It's also saying that it's OK to have had parents whose actions should have theoretically f****d you up, but it really doesn't matter. I think the truthful way to remember people is with all their weirdness and badness – otherwise you're changing history. It's about telling the truth, even when people have behaved very badly – that's what will bring them back to life.
The Alzheimer's Society is the UK's leading dementia charity, providing information and support, improving care, funding research, and creating lasting change for people affected by dementia. Find out how you can help at alzheimers.org.uk
David Baddiel will be performing his live show, My Family: Not The Sitcom, until 3rd June 2017 at the Playhouse Theatre in London. For tickets, go to: playhousetheatrelondon.com