Dads, do you struggle sometimes? Who do you reach out to for help? Debbie Pattison, a qualified counsellor at Fegans can answer your questions. Send them in to Ask Debbie at info@dad.info and if she can she will answer.
Today's question is from a dad struggling to introduce his new girlfriend to his kids.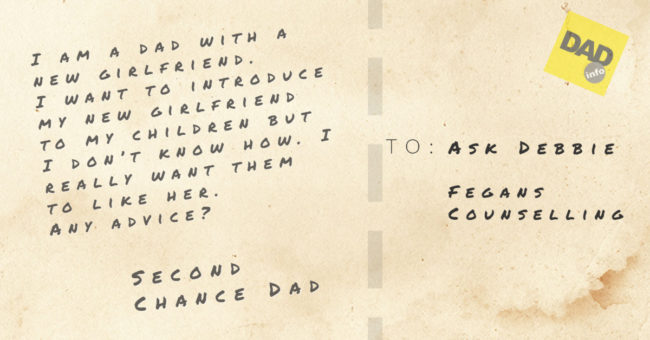 I am a dad with a new girlfriend. I have two children (age 5 and 7) with my ex-wife. I want to introduce my new girlfriend to my children but I don't know how. I really want them to like her. Any advice?

Second Chance Dad
Dear Dad
I feel one of the first questions that you need to ask yourself is this. Is this a casual relationship or does it have the potential to be permanent? I am also wondering how long you have been dating your girlfriend? Also how long you have been separated from your ex-wife.
The reason these three questions are important is that timing is crucial here.
Children need time to adjust to their parents split and it can take a year or two for young children to get over their emotions attached to this. They may still be feeling anger, sadness and many other emotions. For them this time can be a period whereby they are grieving the loss of their intact family.
The danger here is that if you introduce a girlfriend to your children whom you are casually dating, it could potentially complicate their adjustment to your separation from their mother.
Something that you also need to be aware of is that your children may view your new love as a rival and may not share your excitement here.
Do you also feel that your girlfriend will be a good fit for your family?
Whilst you may feel that you have a great connection with her it may not necessarily follow that she will be suited to your family.
Once you've have considered all of these points, I would then suggest talking to your children and explaining to them that you are dating someone who you care about and that you would like them to meet her. Invite them to ask you questions about this.
If your children are agreeable arrange the meeting at a neutral place and keep it very low key, casual and short.
Above all reassure your children that you have an abundance of love to go round. Explain to them that your girlfriend will not replace their other parent or take your love away from them or change your relationship with them.
Please also bear in mind that your children may reject your girlfriend at first. If they feel anger or defiance at first, go with their feelings and don't push this meeting too soon if they are not ready.
Time is a great healer.
With patience and understanding your children will let you know when they are ready to meet your girlfriend.
I hope this helps you here and I wish you the very best of luck
Very best wishes
Debbie

Debbie is an experienced counsellor and advocates for children and adults' mental health.
Find out more about online counselling with Fegans
Our counselling sessions cost £48 (they are therapy not legal advice, for divorce and separation support please use our forum). If you would like to find out more information about our online counselling, provided by experienced and qualified counsellors leave your details below and Debbie will be in touch for an informal chat to talk through the process and the costs. We work with young people (aged 10 and over) and parents.