Dads, do you struggle sometimes? Who do you reach out to for help? Debbie Pattison, a qualified counsellor at Fegans can answer your questions. Send them in to Ask Debbie at info@dad.info and if she can she will answer.
Today's question is from a dad with difficulties when he picks up his daughter.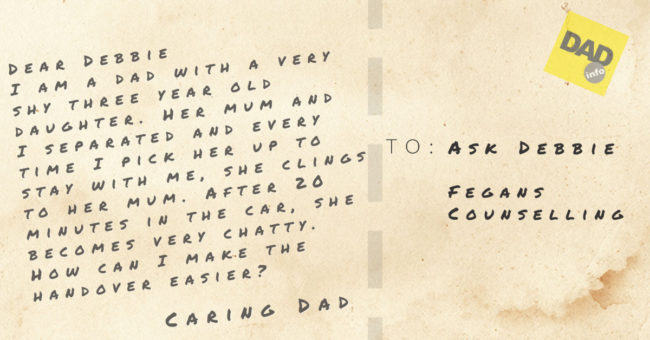 I am a dad with a 3 years old daughter. Her mum and I separated after she was born. My daughter is very shy and every time I pick her up to stay with me, she clings to her mum and resists coming with me. After 20 minutes in the car, she becomes very chatty. How can I make the handover easier?

Caring Dad
Dear Dad,
My heart goes out to you! As you say, what an awful two years.
You sound like a great Dad who has your daughter's best interests at heart. To hear the words 'when we are together, my daughter is happy and settled' is a testament to this.
Well done for never giving up!
Children are very sensitive after a breakup. To them, their parent's divorce or separation can be an extremely traumatic event. From their perspective, it can feel very similar to losing a parent completely. Therefore, during the handover from one parent to another, the child may fear that they will never see the other parent again. Also, a child's emotions may feel overwhelming when they see the other parent, whom they love and may have thought that they would never see again.
So, although this handover may feel quite painful and difficult at the moment, everyone will adapt to this in time.
Your daughter is still very young at the moment but with patience, time, and consistency from you, she will adapt and look forward to this handover.
Very best wishes
Debbie
About Debbie

Debbie is an experienced counsellor and advocates for children and adult's mental health.
Find out more about online counselling with Fegans
Our counselling sessions cost £48 (they are therapy not legal advice, for divorce and separation support please use our forum). If you would like to find out more information about our online counselling, provided by experienced and qualified counsellors leave your details below and Debbie will be in touch for an informal chat to talk through the process and the costs. We work with young people (aged 10 and over) and parents.